Ideas for the Best Paw-liday Card Photo with Pets
There are so very many things to enjoy about the holidays; sweater weather, time with family and friends, and delicious treats, to name a few. One of our absolute favorite aspects of the holiday season is all the extra time we get with our pets. Including your pets in your holiday photos helps you all get into the festive spirit together (and share it with others). Consider using the following ideas to get the best paw-liday card photo with your pets: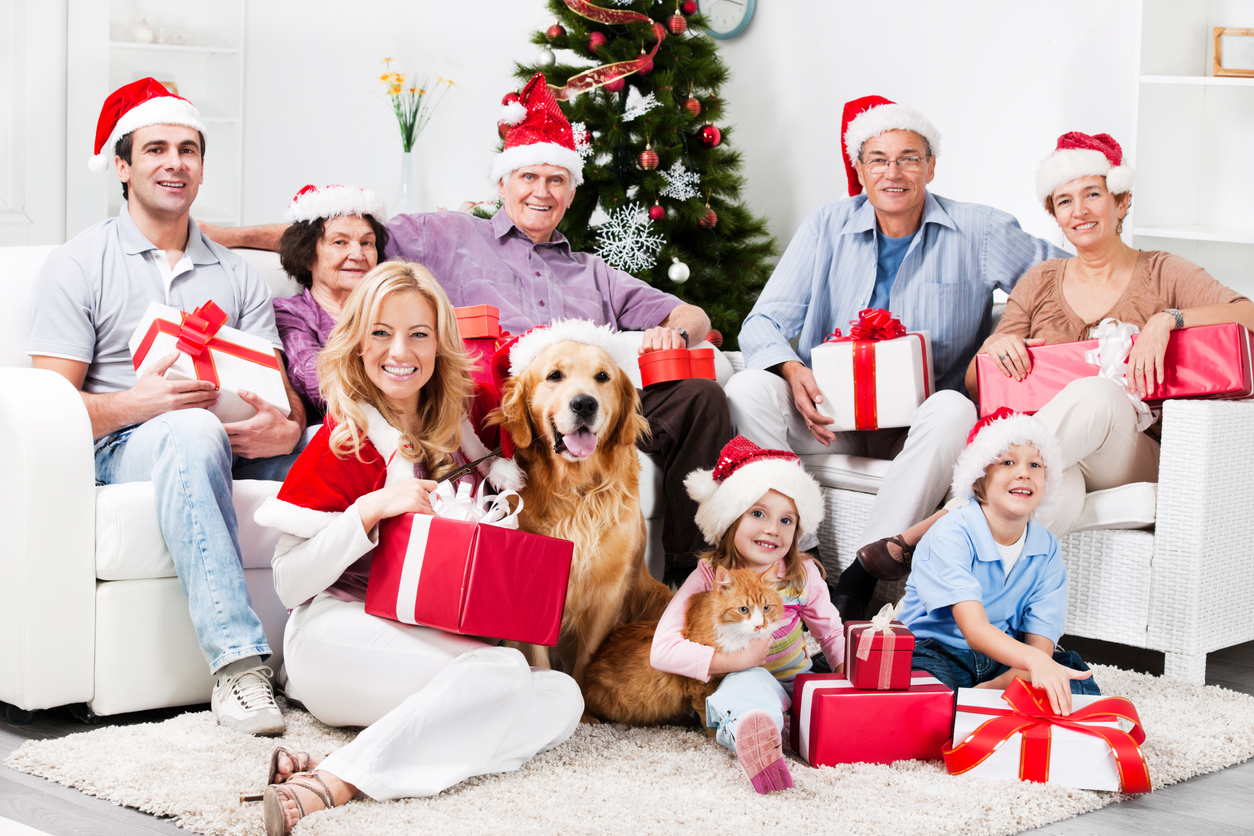 Wear Matching Holiday-Themed Clothing
Holiday pajamas. Ugly sweaters. Santa hats. Can you even imagine the cuteness possibilities of dressing your furry friend in the same holiday-themed clothing you are wearing? If your pet is not used to wearing clothes, be sure to practice a bit before the big photo shoot. Let your dog or cat strut around the house in their new getup. Whenever you get clothes for pets, you want to make sure it fits well without restricting movement or breathing.
Make Your Pet the Present
You know your pet is a gift in your life, and now you can show everyone else, too. Pose with your pup or kitty inside a beautifully-decorated gift box for this year's holiday photos. You can stage the photo while unwrapping your precious gift or letting it serve as the cutest centerpiece of all time. This photo idea is especially good for young or small pets (so you don't have to get a giant box). Stage the photo in front of the decorated tree for even more of a holiday aesthetic.
Use Some Festive Accessories
There are plenty of holiday accessories that can add a pop of fun and seasonal cheer to your photos. Consider having your pet sit inside a wreath or a string of lights. If you want some symmetry in the photo, you can also pose inside the festive accessory you choose. As always, be sure that any props are safe for your pets and do not leave them unsupervised with the accessories.
Create a Sleepy Paw-liday Card Photo
If you've got a sleepy pet on your hands, use it to your advantage with a sleeping pet holiday photo. Decorate your pet's bed with some holiday decor and gather 'round during naptime. A cute and festive stuffed animal companion is not mandatory, but it definitely adds a little extra sweetness to the final product.
Set Yourself Up for Success
Before you smile into the camera, there are a few ways to set the stage to ensure you get a card-worthy shot. Be sure to:
Get your lighting right. Try to set up your light source at a 30-45 degree angle from the camera.
Find the perfect backdrop. Whether you want to take a picture in front of the tree or an action pose while baking holiday cookies, do some scouting in your home before you start. The perfect background will add a lot to the final photo.
Encourage your pet to look at the camera. Your paw-liday card won't be the same if you can't get your pet to look at the camera. Try to get someone who your pet knows to take the photo to grab their attention. If you can't find any good volunteers, have the photographer hold up a favorite toy or treat.
Have fun. This should be a bonding experience for you and your pets, so don't forget to enjoy it!
The team at OVRS would love to see how your paw-liday card photo turns out. Our caring and compassionate team works hard to keep your pets happy and healthy, and we truly enjoy seeing them at their best. To learn more about our specialty veterinary services, please call (248) 334‑6877.