December Holiday Decoration DON'Ts – What Every Pet Parent Should Know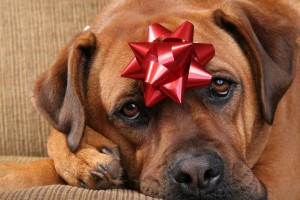 So, now that Halloween has come and gone and the turkey and gravy have been feasted upon, it's time to break out those boxes in the garage and decorate! It is a common scene after Thanksgiving: the stringing of lights and the decking of halls… But, like other holidays, if you share your home with a cherished pet, you'd better keep a keen eye on your fur buddy around the bedazzling display of holiday décor.
On the Tree
The ideal way to protect your pet from the perils of the Christmas tree is to simply keep your four-legged friend away from the tree unless you or a family member are present. If that's impossible, keep lower branches somewhat bare or opt for unbreakable, large ornaments at your pet's level.
No one likes to deal with a downed tree after a rowdy game of chase (we suggest anchoring it), or a favorite ornament lying broken on the floor (a tempting toy for your feline), there are a few decorations that can create real emergencies for our pets.
Tinsel – Foil tinsel (and other icicle types of garland) is the number one offender when it comes to holiday decorations. What appears as a wonderfully shiny (edible) object to your pet (your cat, in particular) can cause severe damage to your pet's intestinal tract and result in emergency abdominal surgery. Better safe than sorry – get rid of all string, tinsel, or other thread-like Christmas tree garland.
Edible ornaments and advent calendars – Need we say more? Your dog's nose can pick up the scent of something miles away. If you don't want your dog to eat it, keep it out of his or her reach.
Breakable ornaments – Oh, how our kitties love to bat around those shiny hanging orbs from the branches of the decorated tree. Glass and other fragile ornaments are quite lovely, but are an avoidable risk to your pet so keep them out of reach.
Ornament hooks – consider ribbon or fishing twine rather than hooks to keep them out of eyes, mouths and paws.
Finally, keep in mind that your pets don't understand the concept of "family heirloom". If you've got irreplaceable holiday ornaments, be sure to hang them somewhere that your pets won't get into, and  exercise patience and understanding if an accident does occur.
Under the Tree
Many of us like to display gifts under the tree in advance of being opened. Of course, we must also be prepared to have the corners and paper chewed on by a curious pooch or kitty. The same rule applies: avoid letting your pet have full rein unless supervised.
Curly string for gift wrapping – Like tinsel, this is cat kryptonite. Before bringing gifts home from the office or other holiday party, remove any ribbons, string, or foil and keep your own presents minimally wrapped in paper only, or opt for a wide ribbon or beautiful fabric as a ribbon alternative.
Tree water – Since your pets will naturally want to take a sip from the Christmas tree water (if you have a real tree), forego the preservative chemicals, as they can make your pet extremely ill.
Edible gifts  – Don't assume because the gift is wrapped, your dog won't smell chocolate or other edible items. Keep these off of the ground and stowed away until they can be opened.
Around the Home
Now that you've secured the tree and the gifts, take a moment to check the rest of your home for hidden dangers, such as cords and light strings that can be accessed by a nibbler. Make sure the decorations listed below are either out of your pet's reach and used to decorate rooms that are off limits to your pets.
Holly and mistletoe – Poinsettias, holly, mistletoe, and even pine needles from the tree can present toxicity emergencies. Choose faux foliage when it comes to these poisonous plants, or select other non-toxic, yet lovely, varieties. A chew-repellent spray can help keep kitty from chewing on live or artificial tree needles.
Candles – Open flames can singe whiskers and burn tails – and can even create a house fire. Stick to battery powered candles this season, which provide the same ambience without the risk, or keep real candles out of reach.
Electrical cords – Light strands and electrical cords are especially hazardous to pets who like to chew, such as house rabbits, ferrets, and other small mammals. Secure loose cords and wires up high or with protective plastic tubing.
We hope you find these tips to be useful as you prepare to spread some festive cheer around your home and hearth.  And, for more seasonal pet-safety tips, we encourage you to read our blog on pet safety and holiday parties.
Happy holiday decorating!December Holiday Decoration DON'Ts – What Every Pet Parent Should Know