Creating New Traditions: 8 Fun Ways to Celebrate the Holidays with Pets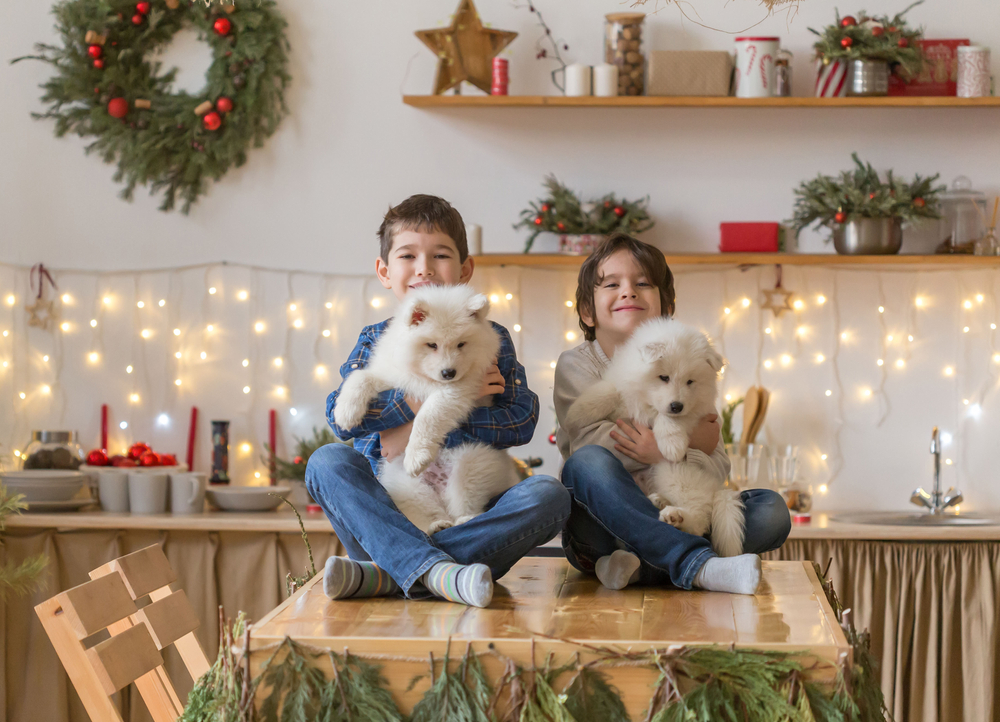 Holidays full of food and gifts, love and heartwarming memories of time spent together are cherished traditions for most every family. It is natural that we want to celebrate the holidays with pets as well since they play an important role in our family. Think about ways to include them in your holiday traditions and maybe even create new ones with your pets in mind.
Your team at Oakland Veterinary Referral Services wants to share our ideas for ways to celebrate the holidays with pets, keeping safety in mind.
8 Ways to Celebrate the Holidays with Pets
What are some of your favorite holiday traditions? Putting decorations on a fir tree, lighting a menorah, baking favorite desserts and holiday cookies–the list goes on. Few traditions, though, consider the safety and inclusion of our pets. This is why it's important to make some new, pet-safe favorites that our furry family members will enjoy.
Choose pet-theme ornaments and attire – You can do some serious decking of the halls when you decorate your tree or mantle with pet-inspired decor. Consider a paw print ornament or one featuring a photo of you and your bestie. You can also create holiday bandanas or jingle bell collar attachments to jazz your pet's outfit. 
Create holiday biscuits and treats – Baking with loved ones is a wonderful way to bond, and you can do the same with your pet. Along with those cookies, pies, and confections, you can whip together some special holiday treats for your cat or dog. We suggest looking at all of the great recipes on sites like Pinterest or doing a web search for holiday pet treat recipes. Your pet may even be able to lick the bowl!
Spend an evening caroling – Nothing says the holidays like our favorite carols and festive songs. If you are musically inclined or know neighbors who want to ring in the holidays with a chorus, bring the dogs along. They will appreciate the extra walk and have fun caroling alongside you.
Say "cheese" for a holiday family portrait – There's nothing better than gathering your loved ones together for a holiday-inspired portrait. And including your pets in the picture is a must. Don some tacky (or cute) Christmas sweaters for you and your pet. This photo opp will be the perfect holiday card, too!
Bake a pet friendly feast – Most human foods are not healthy or safe for our pet companions. There's no need for them to be denied their own special feast, though. Some foods, like boneless, unseasoned turkey, steamed carrots and green beans, and fresh berries, like blueberries are fine for your furry one. Stay away from toxic foods, greasy or fatty foods, or anything containing bones. 
Make your pet their own stocking – There are several filled pet stockings you can buy for your cat or dog at most large pet supply stores or online. But what's more fun is to create your own, stuffing the stocking with all their favorite treats and toys. They will love the surprise! You may even want to order one of these 8 top pet subscription boxes as a gift and put items from the first one in the stocking. 
Go look at holiday lights and decorations – Most dogs, and some rare cats, like to hop in the car for an adventure. Driving around the neighborhoods to look at all of the beautiful displays of lights is a time-honored tradition. Bring plenty of water for your pet and bundle them up in a coat or sweater if the weather outside is nippy. 
Do something nice for shelter pets – If your pet is the sweetie who has everything, why not share the joy of the season with deserving fur friends. Many rescues and shelters rely on donations and gifts like food, beds, and treats. Call your favorite charity and see how you and your bestie can help other animals.
Do you and your family have a special tradition that includes your pet? We'd love to hear about it. Celebrate the holidays with pets since they are just not the same without having our fur family included in the festivities and fun. By creating new pet friendly traditions, you can be sure to make the upcoming holidays the best ones yet.
For more information on keeping your pet safe during the holidays or to schedule an appointment, please call us.