Traveling with Your Pet During the Pandemic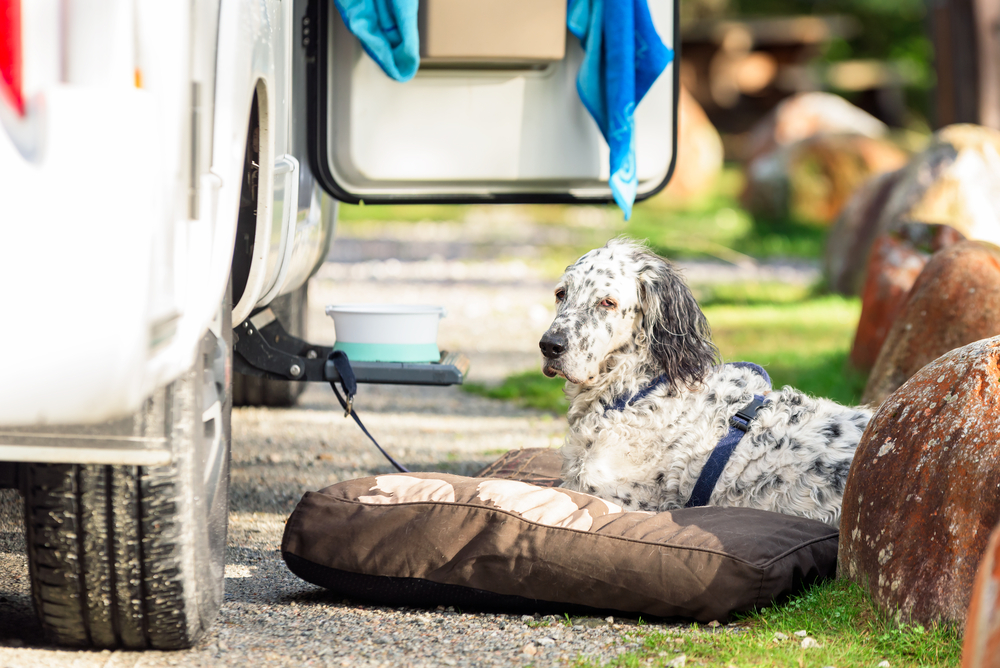 After many weeks of the global pandemic, most of us are opting for road trips, camping, and other forms of getting out and about to shake off the boredom. This also includes using good social distancing precautions.
As pet owners, we probably want to take our best furry ones along with us. After all, most pets, especially dogs, love to travel and sight see with us.
There are a few considerations before venturing out with your paw pal. The team at Oakland Veterinary Referral Services wants to get you out and on the road. Just use our tips for traveling with your pet during the pandemic. Let's go!
Road Tripping with Pets (During the Pandemic)
Wanting to get out is a normal response to being cooped up inside for months. Avoiding air travel is the obvious choice for most when being mindful of COVID-19. This is why RVing and car tripping are two great ways to get out with your pet while maintaining social distancing standards.
We've expanded the regular travel tips to include what you will do to socialize and play with your pet while keeping a good distance from others. Keep the following suggestions in mind:
Your dog doesn't understand COVID-19 and will naturally want to run up to others. Keep them on a leash during exercise and play to reduce the chances of direct contact while retrieving your fur friend.
Plot out places that are less crowded and popular, such as quiet beaches, natural and wildlife areas, limited use trails, and so on.
Know the pandemic guidelines, closures, and other important things to note before you travel. This can avoid a disruption in your plans or unexpected changes.
Off leash dog parks are great for those with well-trained pups who will come when you call. You can maintain social distancing while your dog plays with other puppy peers.
Look for closures before you go. Many places where your pet can walk, play, and relieve themselves, such as at rest stops, may be closed during this time. Map out alternate areas where you can pull over and safely walk your pet.
Know that people are more on edge during this crisis. Be aware that some of your fellow travelers may direct their tension toward you and your pet. It's best to keep a good attitude and be cautious of the CDC guidelines as well as those rules for the state(s) you're traveling to.
Options in Entertainment
Since we are in the age of isolation, it is a good idea to determine places that are enjoyable but do not attract crowds. This may mean forgoing your favorite beach or resort, but you can make it a wonderful time by planning ahead. Here are some suggestions for travel activities for you and your furry one.
Hiking
Camping
Frisbee in a large park or natural area
Drive-through wildlife parks
National parks
Historic sites
Swimming
Open air markets and cafes
Grilling
Bird watching
Photography (make your pet a star!)
National Monuments
The Basics of Road Travel with Your Pet
Being on the road with your pet can be incredibly fun and a good way to bond. There are important "road buddy" rules to remember to keep your pet safe.
Bring plenty of water and a collapsible bowl to keep your pet hydrated.
Know the average temperatures of your destination. Anything over 70 degrees outdoors will prevent you from allowing your pet to be in the car or RV without you. Plan for how to keep your pet cool at all times.
Have your pet examined and given a clean bill of health before traveling with them. Make sure they are up to date on vaccinations and relevant parasite control since your pet may encounter more ticks, fleas or mosquitoes.
Bring all of your pet's daily care needs, including leash and collar with tags, bed, carrier or crate, toys, treats, grooming supplies, and their medical records.
Some states require a USDA approved certificate of health before traveling with animals, so be aware of this as a possible requirement.
Make plenty of stops along the way, where appropriate, so your pets can walk and relieve themselves.
Always bring extra waste bags and clean up after your pet to reduce the spread of illness.
Ensure your pet is welcome at the lodging you choose, as well as places you might want to visit. If you're visiting family, be sure your pet is welcome.
Do you have any travel plans that include Fido or Fluffy? We are eager to learn more from our readers about their favorite spots and activities for pet travel. From all of us, stay safe and enjoy your travels. If we can answer your additional questions about traveling with your pet during the pandemic, we are here for you. Please contact us.