Posts Tagged: Pet Travel
What to Consider When Traveling with a Sick Pet
Traveling with any pet requires prep work before you hit the road. Traveling with a sick pet (one with a chronic illness or motion sickness) can make traveling more complicated.
You'll want to make travel as smooth as possible to ensure your pet's safety and comfort. In the case of infectious disease, you must also factor in the safety of others. Let's explore the steps to take and other scenarios that may come up when traveling with a sick pet.
Continue…
Spring hasn't quite arrived here in Michigan, but that doesn't mean it's too early to start planning for warm weather travel. Spring and summer are the ideal times to hit the road (or the skies), especially if you're planning on bringing a four-legged companion along.
Today there are more options than ever for pet friendly travel, and getting your furry guy or gal to and from your destination is easier than ever. Whether you're planning a weekend getaway or a more extended vacation, the team at Oakland Veterinary Referral Services can help.
Continue…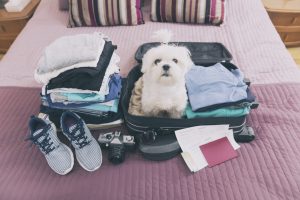 It wouldn't be summer without at least one short getaway. For many of us, leaving our pets at home when we go out of town is simply not an option, which is why we have compiled a list of our favorite local pet friendly getaway destinations, along with a few pet travel tips for safety's sake.
Where To Go, Where To Go?
There is beauty and adventure to be found in every state in the union, but here at OVRS, we agree with the ad campaign that our great state is one of the most beautiful in the country. They don't call it "Pure Michigan" for nothing! Continue…