Travel Safety for Pets: Road Tripping in Your Car or RV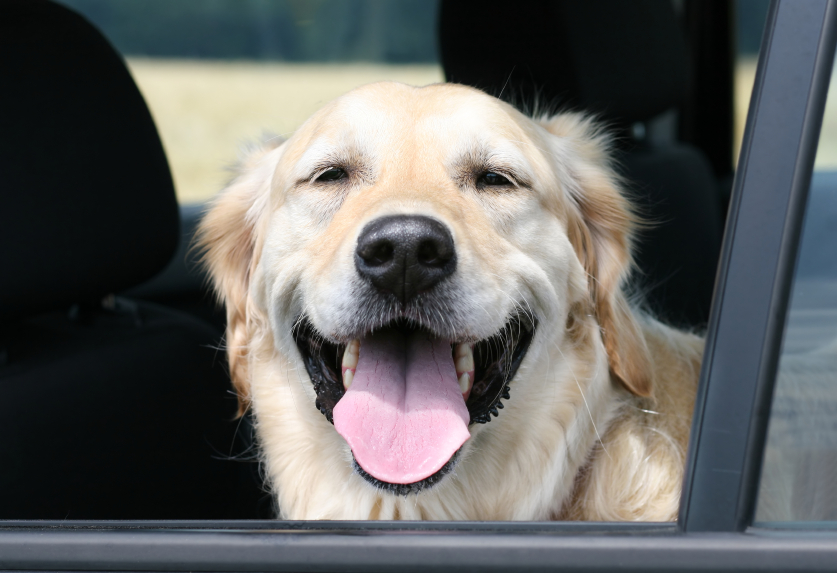 Now that summer has finally arrived, it's likely that you and yours are planning a summer road trip. If your plan includes taking your pet along for the ride, certain steps should be taken to ensure both your family and pet's enjoyment and well-being during the long trip.
Whether you're planning on traveling by car or in an RV, you'll want to keep this "Travel Safety for Pets" checklist in mind as you prepare your family pet for your summer vacation:
Make sure you have your pet's collar and updated ID tags. We also recommend having your pet microchipped (and be sure the chip is activated and updated with your current info), just in case he or she gets loose without his or her collar.
A heavy duty leash is important for those short (and long) walks your pet will need to take along the way and once you arrive.
Vaccinations and medications; your pet should be current on all parasite preventatives as well as be up-to-date on his or her vaccinations. Carry those records with you as you travel, as some states (and foreign countries, such as Canada and Mexico) require them for out-of-state pets. In fact, some require a health certificate from your veterinarian within 10 days of travel.
A crate is a great idea if you need to leave your pet in a hotel while going out to a meal or even to help them sleep better in a strange place.
If motion sickness is an issue for your pet, talk to your vet before leaving to discuss possible solutions or medications.
Car restraints are a must with any pet traveling in a vehicle. RVs are a little more pet friendly, allowing your pet more freedom outside of a carrier or vehicle restraint, but safety should always be a priority. You don't want your pet to have complete freedom roaming about a moving vehicle, as it greatly increases the odds for injury or death in an accident. Research (or ask your vet about) the best type of restraint system for your pet's breed and size.
Rest stops and water breaks are an important part of any road trip. Give your pet the opportunity to stretch his or her legs, drink some fresh water, and go to the bathroom at varying points along the way. Before you go, consider looking for dog parks on your route, or rest stops with hikes or a safe place to run.
Don't forget those disposal bags for your pet's waste or car sickness, it's important to clean up after your pet no matter where you are.
Other Travel Considerations
While in the car, if you let your pet put his or her head out the window, limit the amount of time as  the fast, debris-filled air can cause nose, eye, and lung infections in your pet. Instead, try to keep air on in the vehicle or roll the windows down just enough to allow good airflow throughout the car.
There may be times during the trip when you need to run errands. It is very important to remember that your pet should never be left alone in an unattended vehicle. The extremely high temperatures inside a car can cause your pet to suffer from heatstroke. If you're planning on spending a day at a museum or shopping, look into doggie day camps in the area as a safe alternative for your pet.
Before leaving on your trip, check for vet clinics and hospitals that will be available to your pet along the way and at your destination because your pet's health and well-being are priorities no matter where you are.
And, once you have made the proper preparations for your pet's safety on that family road trip, we hope you have a wonderful time and a memorable trip!