Road Tripping Rover: Tips for Traveling with a Dog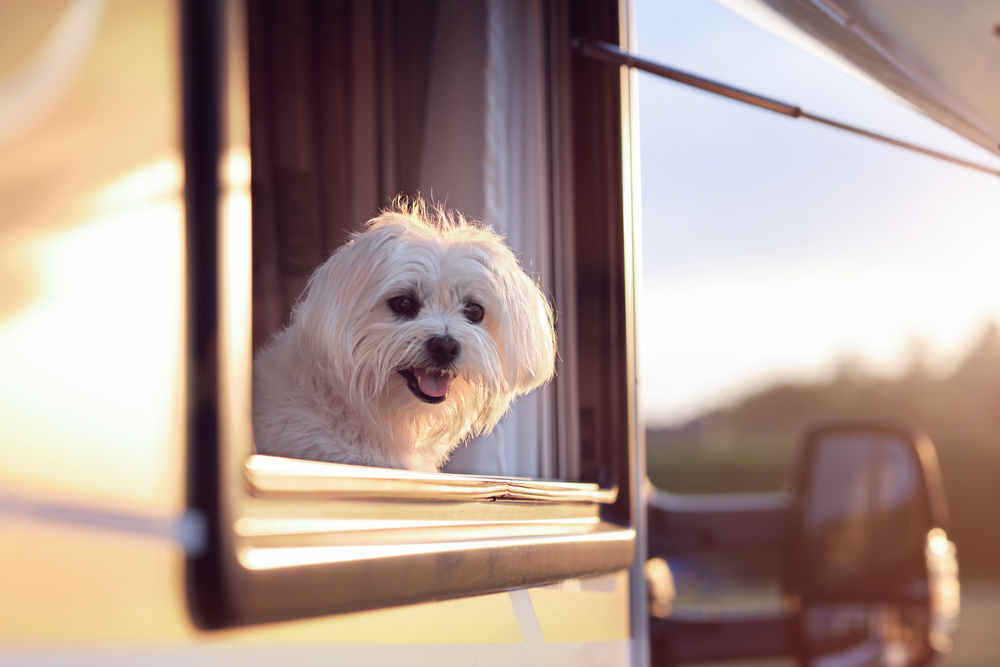 If you are planning on traveling with a dog, Oakland Veterinary Referral Services has travel tips and suggestions to make the journey safe for Fido.
Since the pandemic started, there's been a trend to take to the road to work remotely from campgrounds, RV parks, and adventure destinations. Sales of RVs, conversion vans, and other recreational vehicles have gone through the roof. No wonder so many pets are learning to adapt to life on the road! Along with this trend comes summer vacations and holidays that call for fun road trips.
Traveling With a Dog: Top Tips for RVing and Car Travel
When it comes to hitting the road on a grand journey, of course you will want to bring your pup. Bringing your pet means additional considerations to ensure they will be safe and comfortable. After all, you want your four-legged friend to enjoy themselves as much as you.
Make sure your dog is healthy and current on vaccines and parasite control – Nothing spoils a great time more than a tick-borne illness or canine flu. Your dog should be as healthy as possible for travel, since there is some stress involved. They should also be current on all vaccines and preventives, like flea, tick, and heartworm control. Talk to your veterinarian about any additional needs your pet might have, depending on where you are going and their risk.
Plan a route that is dog friendly – Dogs require frequent stops to potty and walk around. Avoid long stretches of highway where there are few grassy areas or other places to rest and relax. Add a few nature-oriented pit stops to your itinerary, like parks and natural areas.
Pack for comfort – Bring the basics, such as leash, collar with tags, blanket and bed, carrier or crate, food, dog waste bags, treats, toys, and other at home comforts. If you plan on camping, invest in a few tie-outs and an outdoor bed or mat. Bring a collapsible set of bowls and lots of water for your dog (it's easy for them to become dehydrated on the road). We also recommend that your dog is microchipped or has a GPS tag should they get away.
Make sure your dog is secure – Being in a car or RV can be dangerous for dogs without a crate, carrier, or safety belt. Make sure you have your pet inside a carrier if they are small. If you have a large breed dog, use a mesh screen between the seats, have them sit on a dog car seat or use a safety buckle system that can be attached to a halter. In an RV, keep your dog in a kennel while in motion in case of an accident or sudden braking.
Ensure that your dog has fresh, cool air and water – Never leave your dog alone in a parked car on a warm day. Don't leave your dog alone in the RV without air conditioning in hot climates. If you're away, leave the AC on or open air vents for fresh air and leave plenty of fresh, cool water for your pup.
Exercise your dog – Give your pup plenty of exercise before you are in the car. Long car trips can cause your pet to behave poorly if they are contained and still have a lot of energy. During potty breaks, go for a quick walk or run with them in an area designated for dogs.
Choose dog-friendly lodging and activities – If you are lodging in a hotel while you travel, check that they welcome furry friends. Try and find a place that is off the highway or busy roadways, and has ample room for walks and potty breaks. Some KOAs and campgrounds do not permit pets and those that do have strict rules. Make sure you know where you are going to avoid disappointments.
Be aware of wildlife and possible exposure to parasites – For those who choose to RV or camp, be wildlife aware. Keep your pet on a leash or with you at all times, since local wildlife carry diseases. Never let your dog chase wild animals. Also, avoid letting your doggo drink from standing water sources, like ponds or ditches, since they can contract a protozoan or bacterial illness.
Investigate pet emergency centers in advance – Look up pet emergency centers near where you will be staying. If a pet emergency does happen, you want to know where to go and how to get there quickly.
Are you ready to enjoy the wide open road with your bestie? We hope so. Traveling with a dog can create wonderful memories for years to come. Just be sure to make it a safe journey by following our recommendations for pet travel.
Call your local veterinarian if you have any questions or to schedule a pre-travel examination.