Life (With Pets) Is A Highway: Pet Travel Tips And Summer Getaway Ideas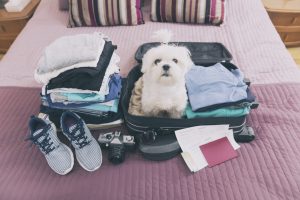 It wouldn't be summer without at least one short getaway. For many of us, leaving our pets at home when we go out of town is simply not an option, which is why we have compiled a list of our favorite local pet friendly getaway destinations, along with a few pet travel tips for safety's sake.
Where To Go, Where To Go?
There is beauty and adventure to be found in every state in the union, but here at OVRS, we agree with the ad campaign that our great state is one of the most beautiful in the country. They don't call it "Pure Michigan" for nothing!
Check out some of our wonderful, and local, pet friendly destinations for a quick getaway this summer such as:
Traverse City

, where you and your furry pal can enjoy pet-friendly beaches and a fun downtown district
If you're the outdoorsy type

, head further north to the U.P., where you can stay in

pet friendly

campgrounds, hotels, or resorts, while you explore the stunning landscape.
If you've never been to Holland

, Michigan, you're missing out. Besides tulips (lots and lots of tulips), Holland boasts a variety of pet-friendly hotels and restaurants, a historic and fun downtown, and beautiful dunes and beaches.
Feel like some city living?

Head to metro Detroit for a quick urban getaway with your pet. Hit up a pet friendly restaurant before exploring the

Detroit Riverfront

with your pooch, followed by an afternoon of sightseeing and shopping.
Pet Travel Tips
Figuring out where to go and where to stay is important, but of course the safety and comfort of your furry friend should be your top priority regardless of where your summer travels take you. Keep the following pet travel tips in mind for a fun and safe adventure with your furry companion:
Schedule a wellness exam for your pet before you leave. Besides assessing your pet's overall health, your veterinarian will make sure he or she is up to date on vaccinations and

parasite preventives

, both of which are necessary for safe travels.
If you will be crossing state lines, you may need a pet health certificate, especially if you and your pet are traveling by plane. Give us a call to get started on this process and please don't wait until the last minute.
Make sure your pet's ID tags and microchip are updated (tags should have your cell phone number on it, so you can be reached while away from home). Keep your pet's collar and tags on at all times during your trip.
Keep your pet's medical records and a photograph on hand. Make sure his or her crate or travel kennel is clearly identifiable.
Pack the essentials! Besides food and water (and bowls to eat and drink from), bring along any medications your pet is taking, plus favorite treats, toys, and bedding to help your pet to feel more relaxed in a new environment.
A disruption in the daily routine can be extremely taxing for some pets. Try to adhere to your pet's regular feeding, exercise, and playtime schedule as much as possible.
Plan ahead for the convenience and comfort of both your pet and yourself. Schedule times and places for pet potty and exercise breaks along the way, and have a plan in place for your pet if there will be times when he or she won't be able to be with you.
Plan for your pet's safety by bringing along a first aid kit. Review swimming, boating, and

beach safety

for pets before you hit the water.
Never leave your pet in a parked car in warm weather. Temperatures inside a vehicle can climb to dangerous levels in a matter of minutes, even in moderate temperatures. The safest place for your pet is always with you.
As always, please give us a call if you have any questions or concerns about our pet travel tips. Bon voyage!