What Your Dog Can Eat on Thanksgiving
Food is the star of the show on Thanksgiving for us and our dogs. While there are quite a few holiday treats that are unsafe for dogs to eat, there are plenty of tasty treats they can enjoy. As you start planning your Thanksgiving meal, don't forget to include a few foods your dogs can eat. Need some inspiration? Your friends at OVRS are here with a list of what your dog can eat on Thanksgiving: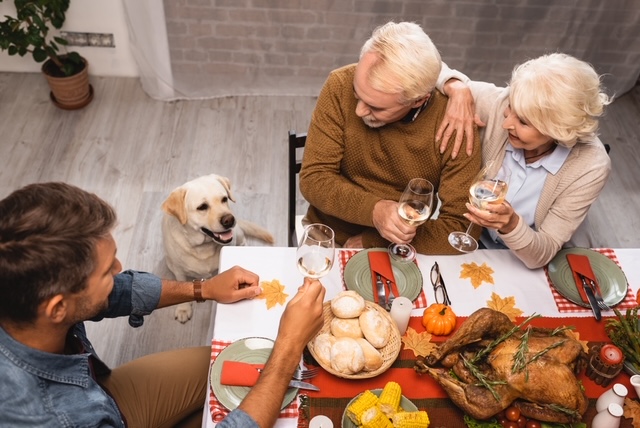 Turkey! Kind Of…
The actual meat of the turkey is perfectly safe for pups to enjoy, but there are some caveats. Be sure your turkey has no skin or bones before slipping it to your eager canine. If your turkey has been seasoned with butter or any spices and the meat feels fatty, you should probably skip out on sharing it. Too much fat can lead to pancreatitis. If you have some plain turkey meat that is free from bones, you can let your dog have a little.
Lights, Cameras, Apples!
Another sweeter food that's safe for dogs, apples are a fall favorite that can help your pooch feel included in your meal. Chewing them also gets some plaque and tartar off the teeth, which can help improve dental health. Be sure to cut the apple up into small pieces, and do not include any portions near the core. In large quantities, apple seeds can be very harmful to dogs.
Green Beans, Carrots, and Broccoli, Oh My!
Most of your side vegetables will be safe for your dogs to eat as long as they have not been cooked in butter or seasoned. If you are planning to zhuzh up your veggies for your actual meal, set some aside for your pet before you add the extra ingredients. Just as they do for humans, many veggies provide important micronutrients and vitamins that are healthy for pets.
Note: Peas have long been thought to be a safe choice, but a recent FDA investigation found a link between certain foods and Canine Dilated Cardiomyopathy. With this new information, it is best to avoid peas, lentils, and other legume seeds (pulses).
Hello, Pumpkin
Pumpkin isn't just a cute nickname for your dog—it is also a delicious and nutritious Thanksgiving treat for them to enjoy. Pumpkin is helpful for digestion, and vets often recommend it if a dog is having a bit of tummy trouble. It can also make your pooch's skin and coat shine. Whenever feeding your dog pumpkin, be sure it is the only ingredient. Sometimes canned pumpkin will have some extra fillers that can prove harmful for your pets.
Popcorn Garnish and Garland
If you like to do some DIY holiday decorations like popcorn garland, you can give your pup a little pop in his step. Plain, unbuttered popcorn makes a great snack for hungry dogs. You might be surprised to learn that popcorn has minerals like magnesium, zinc, and phosphorus, which makes it a nutritious treat for dogs. Just be sure that the popcorn is completely plain (not even salt) and that there are no unpopped kernels, which could be a choking hazzard. 
Potatoes–Remove From Your Menu
Sweet potatoes especially have been considered healthy snacks for dogs throughout the year. They are full of fiber, vitamin B6, vitamin C, and beta carotene. The FDA study mentioned above also found a link between potatoes in various forms and Canine Dilated Cardiomyopathy. This longtime friend should now be removed from your dog's diet and Thanksgiving meal.
What your dog can eat on Thanksgiving is quite a few things from your holiday table–as long as you follow the basic guidelines above.
Although we hope everyone has a safe and incident-free holiday, the team at Oakland Veterinary Referral Services provides 24/7 specialty and emergency vet care. We are always here to ensure your pets have the care they need when they need it. Call (248) 334‑6877 to learn more.