Meals for Two: Meals You Can Share with Your Dog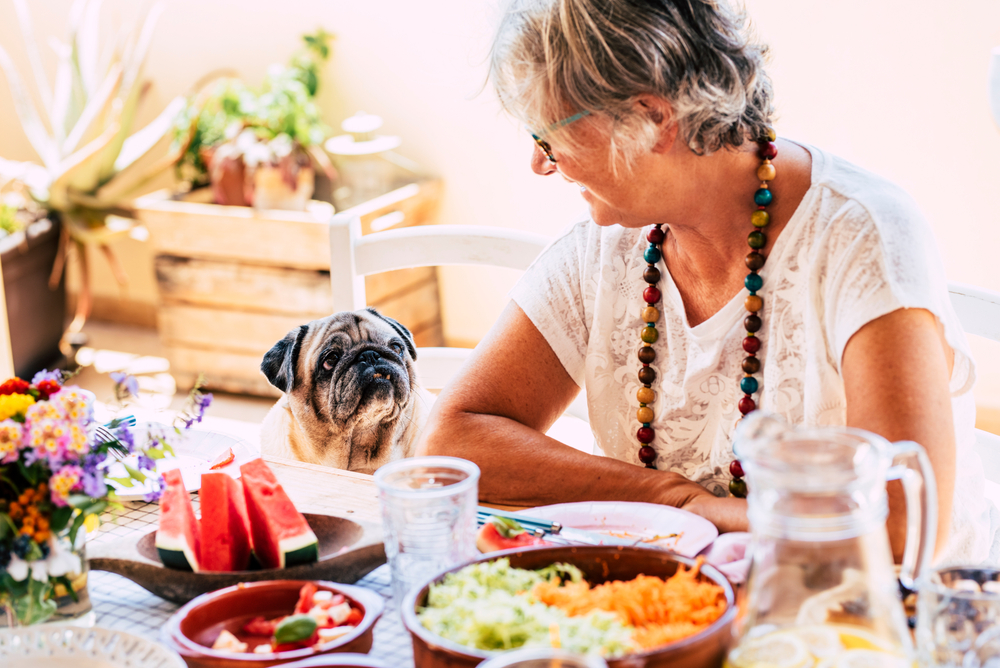 Would you like to be able to cook one healthy meal for you and your dog to share? We usually spend more time thinking about what to keep away from our dogs than what to share with them. If created properly, there are plenty of dog-friendly meals you can share with your dog. Oakland Veterinary Referral Services wants to improve the human-animal bond between you and your pupper by sharing these safe meals you can enjoy together:
Breakfast for Two: Oat Pancakes
Let's start off our dog-friendly meal selection with a hearty and delicious breakfast option. These oat pancakes are made with healthy, delicious ingredients you and your dog will love.
The only ingredients you need are:
1 ½ cups dairy-free milk with no added sugar
2 bananas (make sure they're ripe)
2 cups rolled oats
1 egg
1 teaspoon vanilla extract
A sprinkle of cinnamon
1 tablespoon of coconut oil for the pan
Simply blend the ingredients together, heat the oil in a pan over medium-high heat, spoon in the mixture, and cook until you see some bubbles, then flip. Cook the other side until you see a lightly brown color, then remove from heat and use a paper towel to soak up any extra oil. Once the cakes have cooled, feel free to enjoy with your pup (though hold the syrup for your dog).
Other breakfast meal ideas include an omelet, yogurt and banana, or scrambled eggs.
Grilled Chicken and Vegetables
This simple meal is healthy, easy to prepare, and nutritious for both you and your dog. Simply grill some chicken to your preference (you can use oil and seasoning on your portion, but make sure your dog gets a plain piece of chicken).
Choose from one (or more) of the following veggies to pair with the chicken–once again, just be sure to avoid oil and seasoning for your dog's portion:
Carrots
Zucchini
Asparagus
Cucumbers
Butternut squash
Green beans
Spinach
Another tasty lunch option is pasta with peas and carrots. Use frozen peas and carrots instead of canned.
Snack for Two: Air-Popped Popcorn
Although dogs cannot partake in eating a bag of microwave popcorn, they can definitely enjoy the air-popped variety. On your next movie night, consider air popping some of this delicious snack in your microwave, in an air popper, or on the stove. Be sure your dog's portion has no oil, butter, or salt (but feel free to add it to your own). Air-popped popcorn is actually a nutritious snack for your canine companion, and will help him get a little extra magnesium, phosphorus, and calcium.
Another healthy snack your dog is sure to love is apple and peanut butter. Be sure to remove the seeds and core.
Dinner for Two: Salmon and Green Beans
Salmon is a healthy option for both you and your pup that has plenty of omega3 and fish oil, which can help you both maintain strong, supple joints. Make sure the salmon is properly cooked and only give small dogs a 1-ounce portion and larger dogs a 2-ounce portion. Fill the plate up with a few extra (plain) green beans to make your dog think she's getting the same amount of food as you.
Another yummy dinner you and your dog can share is beef with sauteed or steamed spinach. Keep your dog's beef plain while you can spice up your portion.
Dessert for Two: Peanut Butter and Oatmeal Cookies
Need a little sweetness to round off your shared meal? You can make dog-friendly peanut butter and oatmeal cookies by just combining rolled oats (make sure they don't have any additives) with plain peanut butter (no xylitol) and bake them until they are crisp.
Use these simple ideas as a starting point for meals you can share with your dog. Many of the simple meals referenced above can be found here with additional meal ideas.
At OVRS, we love to share medical and lifestyle tips for providing your pets with a long, enriching life. Our dedicated team is here to help with your pet's journey when you need us. To learn more about our specialty veterinary services, please call (248) 334-6877.