Healthy Dog Biscuit Recipes: 5 or Fewer Ingredients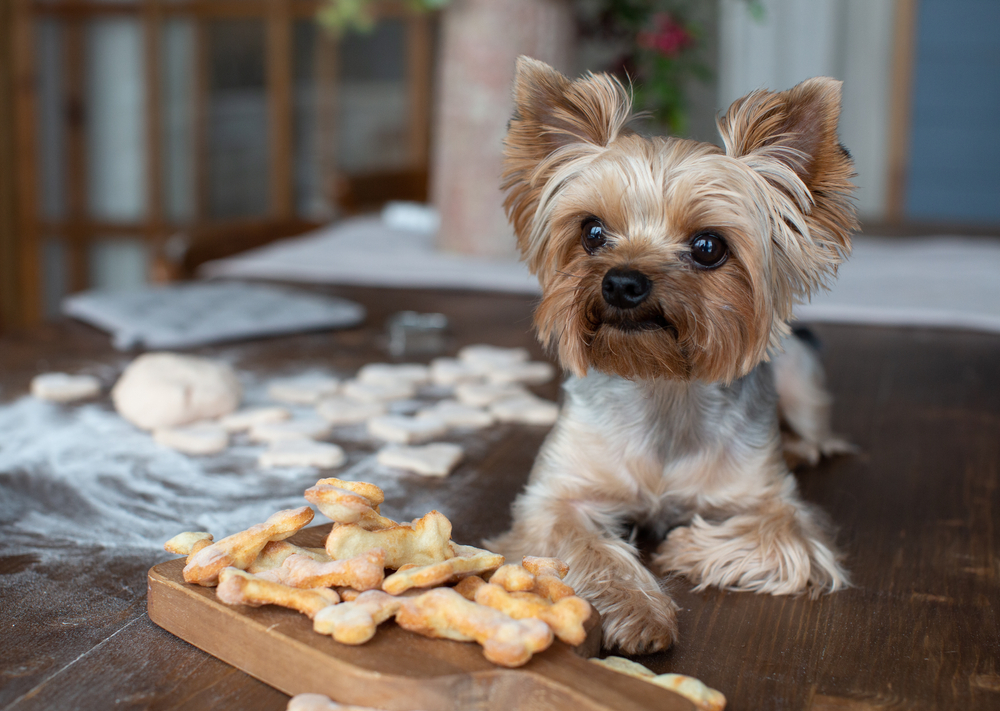 Nutritious diets are an important aspect of your dog's overall health and wellness. Some treats you buy in the store are full of fillers and other ingredients that could be harming your pup instead of nourishing his body. If you want to be sure your treats are safe and helpful for your dog's health, making them yourself is a great alternate option. Here are some of our favorite easy DIY dog biscuit recipes with 5 ingredients or fewer just in time for National Dog Biscuit Day:
Pumpkin Peanut Butter Dog Biscuit Recipe
You don't need to wait for autumn to whip up some pumpkin-flavored treats for your favorite canine. These pumpkin and peanut butter biscuits from The Recipe Critic are easy to make and give your pupper some serious nutritional benefits.
All you need for the recipe is:
Pumpkin puree: make sure it's pure pumpkin and doesn't have any additives.
Peanut butter: always be sure to choose a brand without xylitol, which can be poisonous to dogs.
Eggs
Whole-wheat flour
Cinnamon: just use a sprinkle of this one
When you are ready to get started, follow these steps:
Preheat the oven to 350°.
Use an electric mixer on medium high speed to combine the pumpkin puree, the eggs, and the peanut butter.
Mix in the cinnamon and the flour until you have dough.
Use a rolling pin to roll out the dough (on a floured surface) until it is about ¼ inch thick. If you want to get really creative, you can use cookie cutters to create fun shapes like bones.
Bake for 20-25 minutes, cool, and serve!
Dog Biscuit Recipe Full of Oats
Another great DIY dog biscuit recipe is this one from Kitchen Confidante that uses oats, flour, and flaxseeds to create a chewy and delectable treat for your dog.
To make this recipe, you'll need:
1 cup whole-wheat flour
1 cup oats
½ flaxseed
½ cups beef broth
¼ cup peanut butter
You only need about 20 minutes to make these biscuits, so they are perfect when you are short on time.
Preheat the oven to 350°.
Mix together the dry ingredients and use the broth to add some thickness to the dough (you can use up to a cup of broth if necessary). Use your hands to turn the dough into balls on a baking sheet lined with parchment paper.
Roll out the dough until it is about ¼ inch thick and shape them as desired.
Bake for 10 minutes, flip over, then bake for 10 more minutes.
Diabetic Dog Biscuit Recipe
Diabetic dogs do not need to miss out on the biscuit fun, thanks to this recipe from All Recipes. All you need for this one is:
½ cup whole wheat flour
2 eggs
1 ½ pounds of beef liver cut into small pieces
When you are ready to get started, preheat the oven to 350°. Use a food processor to chop up the liver, then add the flour and eggs until you have a smooth mixture. Spread it across a pan evenly and bake for 15 minutes. Once the biscuits have cooled, you can cut them into squares.
The team at Oakland Veterinary Referral Services (OVRS) is committed to helping you give your pets the longest, healthiest lives possible. From nutrition advice on dog biscuit recipes to specialty care, we are here for you. Call (248) 334-6877 to learn more.