Pet Safety: Party Animals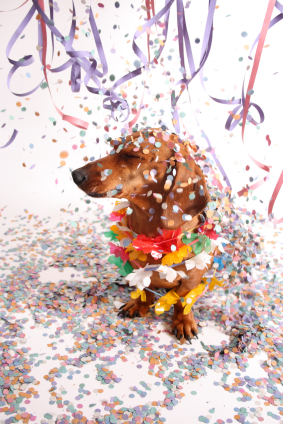 The holidays aren't the only opportunity for your cat or dog to get into trouble at parties. Here are a few reminders for keeping your pet safe at this year's celebrations, family gatherings, and at-home affairs.
Party Safety Tips
Parties can offer plenty of fun for you and plenty of opportunity for your pet to do something he or she shouldn't. Here's how to keep your pet safe:
Before you head out for the night or your party guests arrive, take your pet out for a walk to get some exercise. Not only will he or she enjoy the one-on-one time with you, but it will help to burn off any excess energy your pet may have for shenanigans later in the evening as well.
Help your pet avoid fatty or toxic people foods by making sure that he or she is well fed and has plenty of water prior to the feast and festivities. This can help to reduce your pet's temptations when it comes to sneaking your guest's food and drink when no one is looking.
Be certain that your pet is wearing his or her tags (with current information), just in case someone leaves the door open and your pet gets out. Microchips are great too, but an ID tag will help your pet come home as soon as he or she is found.
Provide your pet with a quiet place to escape the chaos of the party. Pets can get tired too and need a safe place to retreat to when the time is right.
Be certain that your pet doesn't get into the alcohol. Beer, wine and spirits can all be harmful to pets and should not be consumed by your furry friends.  If you're convinced that your pet needs to celebrate or toast with you and your friends, give him or her a drink of clean water instead.
Make sure to clean up any streamers, confetti, deflated balloons or other easily ingested décor before your pet wakes up in the morning. Many of these decorative items can cause abdominal obstructions, resulting in hefty vet bills and a life-threatening start to the day.
However you and yours celebrate this year, we wish you a happy, healthy new year!