Quiet Heroes: Saluting America's K9 Veterans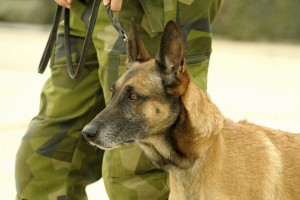 Strong. Intelligent. Stately. Loyal. Dedicated. Just a few of the many adjectives one could use to describe U.S. military dogs.
Vietnam veteran and former military dog handler Joseph J. White felt the same way, which is why he founded National K9 Veterans' Day (March 13th), a day intended to honor all military and working dogs for their service and their sacrifices for our nation.
Military Dogs Throughout The Ages
The first recorded use of dogs in battle was around 600 B.C.. Canines went on to be used by the Egyptians, Greeks, Persians, Romans, and ancient Far East cultures during wars and battles. Here in the U.S., the employment of military dogs began during the Civil War, where dogs served as messenger senders and guards for prisoners.
Taking a cue from European armies' use of military dogs during World War I, the United States began training military dogs for deployment during World War II, after the bombing of Pearl Harbor. To help the war effort, many U.S. citizens donated these first military K9s, also known as 'Dogs For Defense'.
The American Kennel Club, along with a few select breeders, trained the first 'Dogs For Defense' K9s in 1942. Over the years, the military, along with police and rescue organizations, have developed their own training methods for their K9s. Each method is tailored specifically to the job required, and both dog and handler are extensively trained to fulfill their duties.
Besides bomb searching, security work, aiding soldiers in battle, and the countless other positions filled by military K9s, there is also plenty of work for service dogs in the "civilian" world. Dogs work side by side with human handlers as police K9s, Customs K9s, Border Patrol K9s, F.B.I K9s, Secret Service K9s, Airport Police K9s, and more.
Celebrating K9 Veterans
As battle has evolved over the years, so have the jobs that battle/military dogs have been trained to do. Regardless of job or breed, the common thread connecting these remarkable dogs throughout history is their unwavering devotion to their handlers and their invaluable skills that have saved countless human lives.
You can honor the United States military K9 veterans by:
Oakland Veterinary Referral Services would like to extend a heartfelt thank-you to all U.S. military and service dogs (and their trainers and handlers)! We appreciate all that you do to make our country a safer place to live and thrive!