In Memoriam: National Pet Memorial Day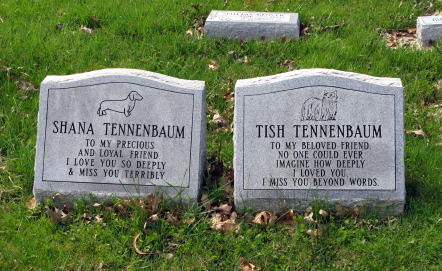 Sunday, September 8, was National Pet Memorial Day. Dedicated to the memory of our beloved pets that have passed away, this special day gives us, as pet owners, an opportunity to honor the lives of the pets who have brought joy to our lives and touched our hearts.
Dealing With the Loss of a Pet
For many of us, the loss of a pet can be devastating. As many pet owners consider their pets to be their best friends and family members, their passing can create an emptiness within us that can be difficult to fill.
Sadly, few of us take the time we truly need to mourn the loss of our beloved pets, yet many of us should. The loss of a devoted companion can be extremely difficult, particularly if the pet is the surrogate "child" of his or her owner, a family pet, or the last link to someone else you have lost.
Paying Tribute to Your Deceased Pet
National Pet Memorial Day is an opportunity to pay homage to your late pet. You may want to consider the following activities:
Look at photos and share your memories and stories about your pet with family members and loved ones.

Create a small, pet-friendly flower garden in your pet's memory.

Plant a tree or shrub in your pet's honor.

Volunteer at your local animal shelter or rescue agency.

Visit your pet's burial site and pay tribute by planting some catnip or by leaving a favorite toy.

Send a sympathy card to those who have lost a pet in the past year.

Make a donation in your pet's name to a favorite animal charity.

Create a memorial using favorite photos, inspirational quotes, or anything else that expresses your loving memories of your pet.
Our Sympathies
At Oakland Veterinary Referral Services we understand the heartache of pet loss, first-hand.
In honor of National Pet Memorial Day we are creating a special Facebook Pet Memorial Page and Pet Memorial Pinboard on Pinterest for our clients to share their photos, memories, and memorials of their late pets.
Should you have any questions about National Pet Memorial Day, or if you need referrals to local support groups to help cope with the loss of a pet, please don't hesitate to contact us.