Quick, Cheap, and Totally Easy Pet Costumes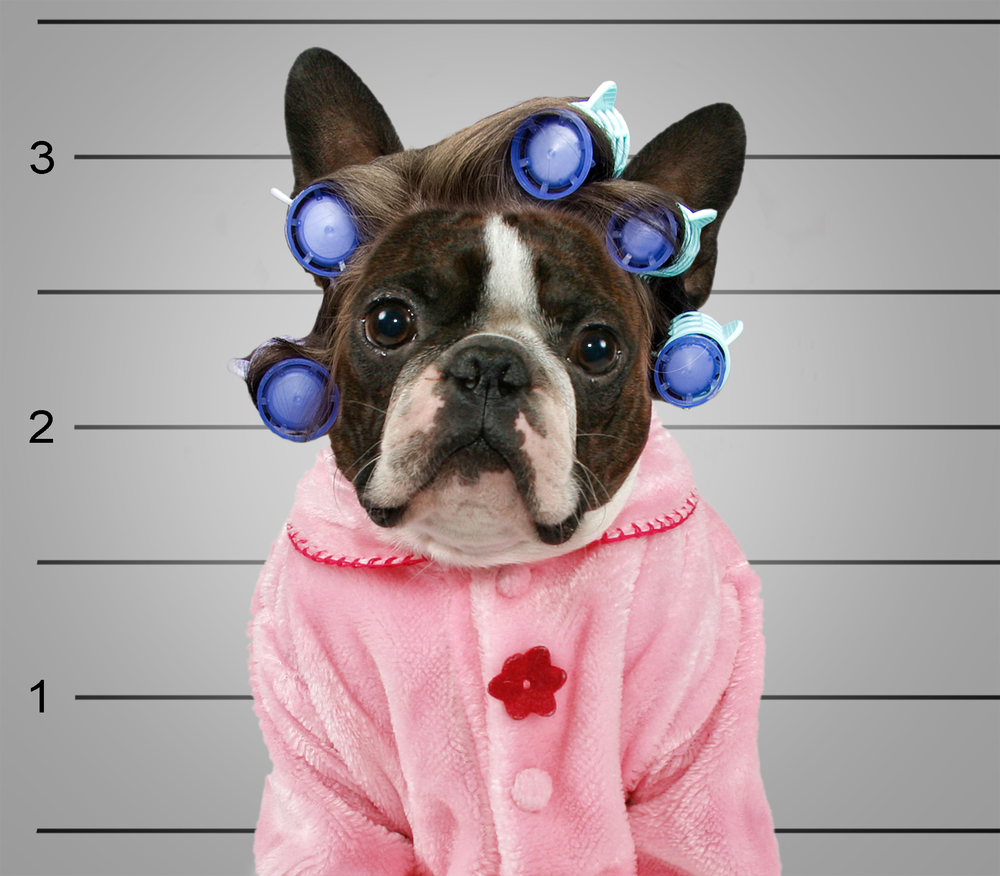 October is an exciting time for kids and kids at heart. Trick-or-treaters, jack-'o-lanterns, and lots of goodies are but a few of the things that we treasure. Costumes are one of the best parts of Halloween, and who doesn't love to see all of the ghoulish and adorable outfits?!
For pet lovers, the costume frenzy also applies. But for very busy, very frugal, last-minute or just lazy pet lovers out there, here are ideas for putting together a simple, fun costume from things lying around the house or easy to gather. No need to be crafty or spend a fortune. OVRS has scoured the Internet to help you scare up the easiest, simplest, last-minute pet costumes for the big night of BOO.
17 Easy Pet Costumes Ideas in Time for Halloween
Don't have a lot of time or cash to spend on pet costumes? No problem. Here are some awesome ideas for your four-legged goblin.
Old baby clothes

– If your pet is a small breed, you may be able to repurpose all of those sweet little baby hats, booties, and, of course, suitable costumes that your children have outgrown.

Hilarious wigs

– Not everyone has a wig lying around, but you may be able to find one at your local thrift store. You can always attach a pet-safe band to keep it on your pet, or simply just snap some quick photo opps for fun before it gets shaken off. Or make a

yarn braid or pigtails

. Add glasses, a tiara or clothing and you're all set. Or add a suit jacket, shirt and tie with a

Trump wig

to go as the President.

Gauzy mummy

– In your medicine cabinet or First Aid supplies, you likely have medical gauze. This is an easy costume to transform your pet pal into a mummy. Just add a splash of fake blood to the gauze. (Keep paint away from face and eyes, and the gauze should be loose, not restrictive.)

Cheap sunglasses

– If you or a child have some discarded sunglasses from the bargain bin, you can don your dog (not likely your cat) in them and create a beach bum theme with a tattered Hawaiian shirt and a lei for that tropical, "no worries" attitude. Or a scarf and hat for a more hipster look.

Tie or bow tie – No doubt, there are a billion unwanted ugly ties out there, or even in your own closet. Don your dapper dog or cat in a fancy bow tie/tie for that formal feel. 
Paris style

– It's easy to find an old beret at a thrift store and a small black turtleneck for a chic Parisian look. For female doggos or kits, you can add a fancy red scarf or faux rose for added elegance.

Grunge galore

– Remember all those times you couldn't part with your 90s flannels? Well, guess what! Pair the flannel with a band shirt and a long-haired wig, and your pet is ready to rock!

King of the Jungle

– Use a mop head and some brown fabric dye and – presto – you have a mane. Just cut the mop to size and affix to a hair band or similar soft fabric for your pet's head/neck.

Hippie puppy

– Tie dye one of your dog or cat's old sweaters and look for a peace sign necklace at any big box discount store or online.  

Caped avenger

– Most dollar stores carry several kids' items, such as costumes. Superman capes, a superman bandana or anything along those lines can be a cheap, last minute solution.

Hausfrau

– for dogs with longer hair, roll up the hair around the face with curlers and add a child size housecoat. Or

attach the curlers to a headscarf

then wrap the scarf around your dog's head.

Classic ghost

– grab a white sheet and cut out holes. It is the quintessential no-effort costume.

Collar of style

– decorate a plastic collar of shame with a hat, bow tie or other adornment and place around your dog's neck.

Skunk

– Have a black dog? Simple add a white stripe down the back and add part of fuzzy white boa to the tail.

Skeleton

– For short-haired dogs with darker coats, use safe, washable paint to draw on skeleton bones over the outside of the dog.

Cereal killer

– Cut up an empty cereal box and attach a broken knife handle.

Bride and Groom

– Attach a doll's white veil to one dog's head and add a black bow tie to the other.
Halloween is a day of thrills, chills, and delight by all, including the family pet. Just remember that costumes can be unsafe (too restrive, covers face, poses a choking risk) or just too plain scary for some pets.
Check out our tips on what to do and what not to do for pet costumes on our previous Halloween blog. We are always here if you want to ask us questions about suitable pet costumes.
Take photos, and have a very happy Halloween with the fur friends!