Help Your Dog Recover From a Surgical Wound Fast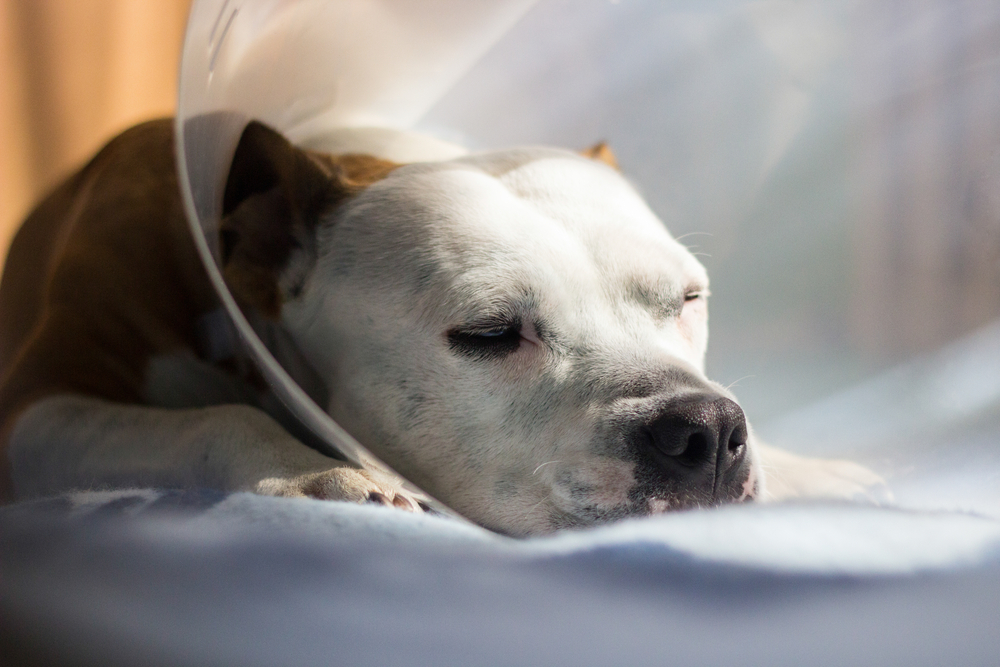 If you're nursing your dog after a surgery, you want your dog's surgical wound to heal quickly and cleanly. Most dogs experience injuries, accidents, and conditions that require surgery at some point in their life. Because of this, you as a pet owner are put into the role of nurse as your dog recovers from surgery at home. Keeping your pet's surgical sutures or wound clean is important to their successful healing.
The team at OVRS is here with tips so that you can help your dog recover from a surgical wound fast. The proper care will help your dog's surgical wound heal as quickly as possible.
Tips on Helping Your Dog Recover from a Surgical Wound Fast
Once your dog is at home from their surgical procedure, you will be in charge of their healing.
Managing the wound — Follow your veterinary surgeon's advice on keeping the surgical site clean and dry. Never put ointment or antibacterial sprays on the sutures or cover the site with bandages or anything else. The area needs enough circulation and contact with oxygen in order to heal properly. Make sure fur, debris, dirt, or other things don't get into the wound by limiting your pet's outdoor time or lightly covering the wound just for the purpose of going outdoors. Once you return, remove the covering. And avoid bathing your dog during recovery.
Prevent your dog from licking the wound — Place an Elizabethan collar or E collar on your dog's neck to keep them from licking or chewing the injury. You can choose from a variety of styles, from the soft donut collar to the standard plastic E collar. Just ensure that it fits properly. And don't remove the collar too soon because you feel sorry for your dog. The collar is for their own good. Removing the collar too soon can lead to licking and chewing at the wound site which leads to infection.
Limit exercise and play — Per your veterinarian's instructions, exercise should be restricted to a gentle walk to the yard, so your pet can relieve him or herself. After a week or so, you can let your dog go on short walks. Avoid any rambunctious activities that would cause your dog to jump or run for the first few weeks. Use of a crate or kennel helps limit activity.
Monitor their pain — Your dog should have been prescribed medications after the surgery, depending on the type of surgery. Some of these help manage any postoperative pain. Give your pet their medications following the instructions. Don't discontinue any drugs unless given the okay from your surgeon or veterinarian. If your dog acts like they are uncomfortable or in pain, call us right away.
Monitor their incision — Watch for any signs of infection (see the signs of infection in the next section). We recommend checking the incision site twice per day, especially at first.
Keep them occupied — Just because your pet must rest and recover, make them happy with enrichment. Give them treat dispensing puzzles, chew toys, and other fun things. Cats love to look out at birds in the yard, so make sure they have a window view. Don't forget to give them plenty of cuddles, too.
Keep them calm — Some dogs become anxious when they are forced to limit activity and spend longer periods in their crate. Depending upon your dog's temperament, you can either remove them to a darker, quieter space with fewer distractions and temptations to interact, or help distract/soothe them with the TV, white noise or soothing music.
Preventing Infection in Dog Surgical Wounds and Other Complications
Sometimes, surgical wounds become infected. This can lead to a significant setback in their recovery and other complications. Be on the lookout for signs of infection, such as:
Bleeding
Pus
Foul odor
Inflammation
Swelling
Let us know if your dog has any of the above issues with the surgical site, so we can address any infection before it becomes worse. You may send us a photo if you're concerned that the wound may be showing signs of infection. And we can help with pain management and other forms of therapy to help your dog recover quickly from a surgery.
If you would like more information on helping your dog recover from a surgical wound fast, or would like to schedule an appointment, we are here for you. Simply contact the team at Oakland Veterinary Referral Services for assistance in keeping your pet healthy and happy.