When the Unexpected Occurs: Disaster Preparedness for Pets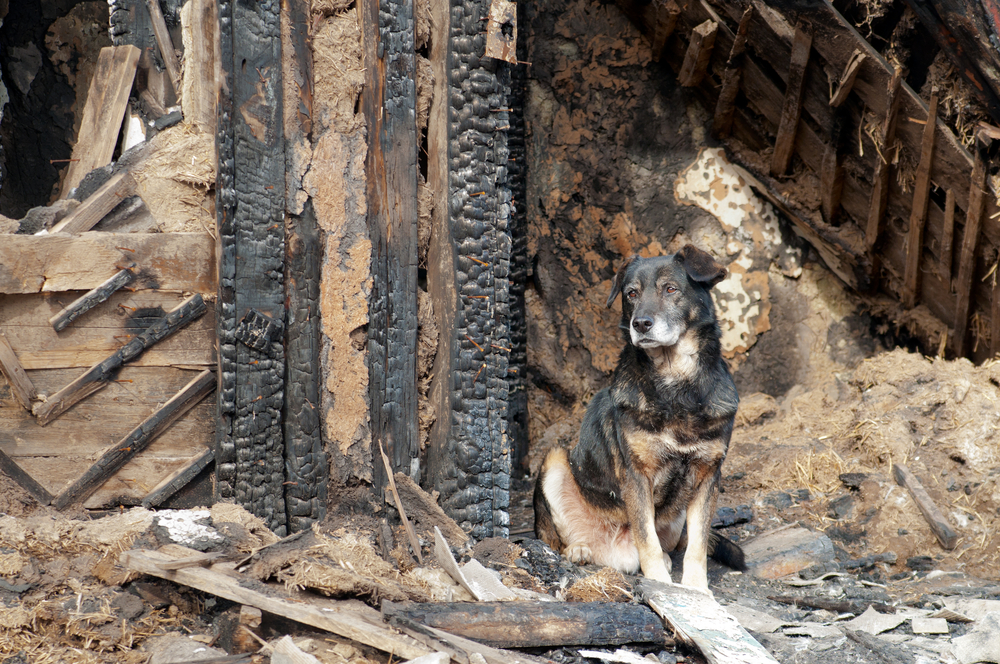 September is National Preparedness Month and a great time to focus on disaster preparedness for pets. You may have taken time to think about how to best keep your family safe during an emergency but did you make preparations for your pets? Fires, floods, tornadoes, and other natural disasters are a part of life. They can be life-threatening without proper awareness and preparation on what to do should a disaster occur.
Our pets need advance preparation and precautions in case of a big or small emergency as well as a natural disaster. There are things to be aware of, as well as the need for a solid emergency plan, for your pet. The team at Oakland Veterinary Referral Services is here to get you started to better protect your furry loved one.
Find a Safe Place
One of the biggest considerations when you evacuate due to an emergency is to find shelter. Many people naturally go to their nearest Red Cross shelter or similar, but did you know that the majority of these do not admit pets? Be prepared with your pet emergency planning with a list of places to stay that are pet friendly.
These might include:
Lodging listed in BringFido.com and other pet travel sites
Hotels that are pet friendly and outside the city or region you are evacuating
Pet resorts and kennels
Friends and family who will host you and your pet
Veterinary clinics
Animal shelters that offer temporary shelter for evacuees
What You Should Bring
You should have a good list of everything you need to grab for your pet's safety and comfort. The essentials of daily care come to mind, along with extras that are specific to pet travel.
Collar and leash with current identification tags
Bed and blankets
Grooming supplies
Enough food and water for two weeks
Water and food bowls
Medical records
Medications
Emergency kit
Toys
Treats
Waste bags or litter box and litter
Remember that you will need your pet's medical records that prove ownership and current vaccines. This is in case you need to have them examined or if you travel across state lines or lodge your pet. This shows proof of their health and discourages the spread of contagious illness. You also need to be up to date on parasite control, as floods and natural disasters encourage mosquitoes and other parasites. And, lastly, ensure your pet is microchipped and has the correct information on file, if they become lost.
Evacuating During a Disaster
The first rule of any disaster is to always evacuate your pet with you. Leaving a pet behind can put them in grave danger. There are times when a pet owner must, so it is critical to have a 'Pets Inside' decal on a window or door to alert emergency workers to your pet's presence. During a disaster, rescuing a pet isn't a rescue crew's top priority, but they could at least alert neighbors or rescuers to check.
Make sure to consult your list of where you can go and gather your pet's supplies. Keep these in a place that is easily accessible, like a hall closet, should you need to leave quickly. Maintain a calm demeanor (as much as you can) as you get your pet into the car and head to your destination. Upon arrival, play with your pet and exercise them to relieve their fear and anxiety.
What If Disaster Strikes When You're Away?
We're not always at home when a disaster strikes. As part of your plan, line up someone who is willing to help with your pets if you're away. This doesn't necessarily mean a natural disaster. You should have a backup plan in case something prevents you from coming home. It could be a major traffic backup, snowstorm, or other occurrence that prevents you from making it home.
Lastly, do you have plans for if something were to happen to you and you had to be taken to the hospital? A health issue can occur at home or while you're at work or even out shopping. Or you could be hurt in a car accident. What will happen to your pets if you can't get home to feed them for a few days?
Natural Disaster Preparedness for Pets
If you have lived through a natural disaster, you understand how timing is critical in getting to safety. Having everything you need for your furry one can make this unfortunate situation less scary for them.
If you would like additional tips on disaster preparedness for pets, or would like to schedule an appointment, we look forward to hearing from you. Please call us.