Best Retractable Dog Gates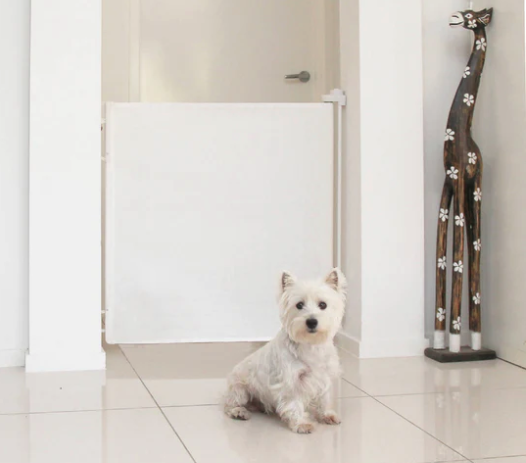 We love our dogs and want them to feel comfortable and safe in our homes. That does not mean that they should have unrestricted access everywhere though. Retractable dog gates offer function without messing too much with your home's aesthetic appeal. They are a great option, whether you want to keep your pup from a room that has a lot of chewing temptations or you want to block off an area for safety. Here is a list of some of the best retractable dog gates to meet your needs:
Retractable Baby Gate, PRObebi Retractable Dog Gates
This mesh gate (that is also safe to use for babies) offers function for both indoor and outdoor needs. With a clear "green" marking for unlocked and "red" for locked, it is easy to properly set up this retractable dog gate when you need it. The gate can extend up to 72 inches wide and 34 inches tall. This means you can use it as effectively in narrow hallways as you can on wide staircases. When not in use, the gate rolls up nicely for easy storage. This gate is equally as functional when trying to keep your pet from stealing your food as it is when keeping an injured dog from climbing the stairs.
Perma Child Safety Indoor/Outdoor Retractable Baby Gate
This plastic retractable gate comes in four color options and extends to 71 inches wide and 33 inches tall. This gate can be used inside or outside and extends and retracts easily–in fact, you'll only need to use one hand to pull it out or back in. This gate is a great option for dogs up to 40 pounds and comes with a one-year warranty.
Retractable Baby Gate 54"
If you are looking for a retractable dog gate specifically for a staircase, this is a great option that gives you true aesthetic appeal and function. It does not extend as wide as some of the other options on this list, but it will fit perfectly at the bottom of a staircase. This lets you can control when your dog has access to different floors of your home. It is easy to install and to store to give you the security you need for your pup without any extra hassle.
Babepai Retractable Baby Gate
This mesh gate is a fan favorite because it is easy to use and install, extends 54 inches wide and 34 inches tall. It comes with two sets of hardware, so you can install it in multiple locations. The mesh material is built sturdy, which means it can stand up to a lot of wear and tear. It might not be the best option for dogs that tend to chew though. It can be used both indoors and outdoors to help you keep your pup (and your home) safe.
At Oakland Veterinary Referral Services, our primary focus is the healthy and safety of all pets. With a full list of specialized and emergency services, we give you the veterinary care you need to ensure your pets are set up for a lifetime of good health. To learn more about our services or to schedule an appointment, please call (248) 334-6877.