Clutter: 7 Easy Ways to Organize Your Dog Supplies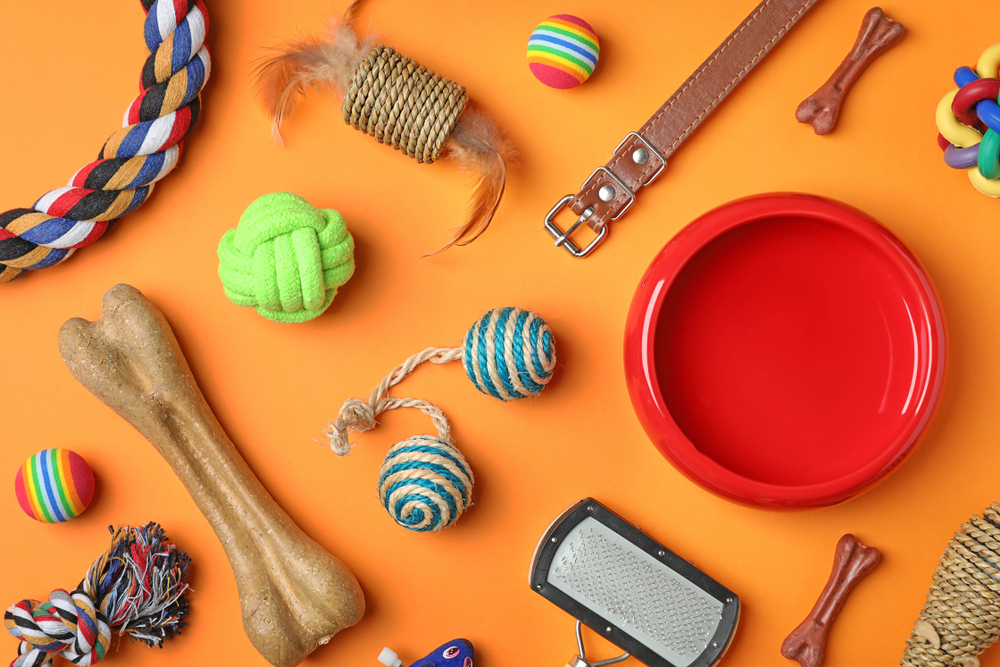 Dogs seem to have almost as much clutter as we do. Let us help you organize your dog supplies. Toys across the kitchen floor, dental chews hidden under the sofa, last year's Christmas gift for Fido buried somewhere in the closet…Yes, it is time for some decluttering! With all the food and treats, toys, beds, and grooming supplies, you probably wonder if you need a separate room just for your dog.
This is where the team at Oakland Veterinary Referral Services comes in. We are here to give you simple tips and organization hacks to help you organize your dog supplies for less clutter and greater efficiency.
7 Cool Ideas for How to Organize Your Dog Supplies
Organization can make life so much easier. It's soothing to know where your car keys are, where you put the remote, and where you store your cell. It can remove the panic of missing items and wasted time. Likewise, your canine companion needs their own organization, like those things needed for going on walks or for feeding them dinner.
Here are a few ideas to take away the topsy-turvy world of dog supply clutter.
Toy chest or basket – Find a decorative storage chest, basket, or plastic bin that holds all of your pet's indoor toys. You can use a storage chest that has multiple baskets so you can store "like" toys together. Or, you can just opt for a covered bin that has everything in it. This will curb the toy sprawl across the room (and the chance of stepping on a toy in the middle of the night). Choose a plastic outdoor storage bin for toys like balls and frisbees.
Dog walking station – You can purchase an all-in-one organizer for leashes, waste bags, training treats, and other dog walking supplies. You can hang many of these next to a door, such as in a small wall mounted cabinet. Or try a standalone, vertical cabinet near the foyer for easy access.
Hidden feeding station – An all-in-one cupboard masquerades as a regular decorative furniture piece, but contains drawers that hold food bowls, bags of food, and treats. These come in a variety of materials, so you can easily match your kitchen decor. Many dog owners lament the clutter of the food dishes and bags of kibble in their kitchen. The all-in-one cupboard is a great way to add a stylish, practical storage solution to the home.
Grooming caddy – Use a plastic caddy, such as those you use for toiletries and shower supplies, for your dog's grooming needs. Put your pet's shampoo, conditioner, brush, nail trimmers, comb, toothbrush and doggie toothpaste, and other grooming supplies in your caddy for easy access when you need it.
Treat jars – Buy a variety of sizes of clear glass jars, so you can see the contents. Then fill biscuits, dental chews, small treats, jerky, and more in each. Locate these jars in a cabinet or pantry. You can also buy metal, plastic, or colored glass containers and simply label the contents.
Keep baskets in each room – When you don't have time to organize, having a pet basket in each room of the home helps keep things tidy. Just throw toys and chews, as well as clothing, booties, etc. in the basket until you can put them away in their permanent location.
Give things away – If your pet's supplies are so bountiful they are filling up the whole house, it may be time to shed excess stuff. Donate gently used pet items, like beds, blankets, stuffed toys, and so on to your local shelter. Alternative, have a pet supply yard sale and donate the proceeds to your favorite rescue or animal charity. Or, just give your items away to thrift stores or to other pet lovers you know.
If your house has turned into a dog clutter zone, or if you find yourself wondering where you put your dog's brush or nail clippers, getting organized will help. Employ some of these simple ideas for pet supply organization and the system that works best for you. If you would like more suggestions on how to organize your dog supplies, we are your go-to. Just give us a call!