How Fluoroscopy is Helping Michigan Pets
While X-rays allow us to see inside your pet so that we can better diagnose and treat him or her, they have limitations. A technique known as fluoroscopy allows us to overcome some of the shortcomings of traditional X-rays which capture one moment in time. Imagine X-rays, only in motion! This technique is creating new options in interventional radiology, minimally-invasive fracture repair, and tracheal stent repair for our patients at Oakland Veterinary Referral Services.
What is Fluoroscopy?
Fluoroscopy is a technique that uses low doses of continuous X-rays transmitted through the area of concern onto a fluorescent screen. These X-rays create a real-time moving image of structures within our patients' bodies. This allows us to capture images, monitor procedures, and even manipulate the video as we work.
Fluoroscopy is an exciting technique because it is:
Very safe

Non-invasive

Allows us to perform procedures less-invasively than before

Able to be used real-time during surgeries

Can help us to diagnose dynamic (changing) conditions
How We are Using Fluoroscopy
Having fluoroscopy available to us at Oakland Veterinary Referral Services is opening new doors for us and our pet patients. We can use this technique for:
Diagnosing patients – Some conditions that pets experience are constantly changing or fluctuating. It can be difficult to capture a point in time where the condition is occurring in order to make an accurate diagnosis. Fluoroscopy can take much of the guesswork out of this problem. We are better able to see dynamic conditions such as a collapsing trachea, follow diagnostic dye through the liver or digestive system, or watch the urinary system work. A more efficient diagnosis lets us get to helping your pet faster.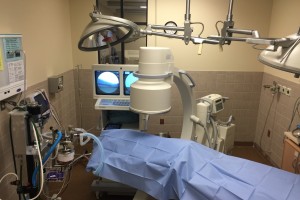 Performing surgeries more efficiently – When our surgeons can see what they are doing in real time without further opening the patient, it allows them to perform surgeries less invasively and with fewer complications. We have found huge benefits with fluoroscopy so far in performing minimally invasive repair to complex fractures and in stenting procedures for tracheal collapse. And this is just the start of ways we'll be able to use this technology to better care for our patients.
In many cases fluoroscopy allows us to shorten the length of time our patients are in the hospital and lessen their anesthesia time, which in turn decreases risk and speeds recovery.
Fluoroscopy allows us to offer you and your pet the latest and best techniques in veterinary medicine. When we can do this in conjunction with less risk and faster results for your pet, everyone wins. If you have any questions about fluoroscopy or want to learn more, feel free to contact us. We are always happy to share our excitement with our clients.