Celebrating Our VECCS Level 1 Accreditation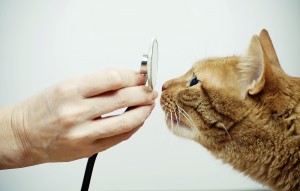 You may already be aware that Oakland Veterinary Referral Services highly values staying at the cutting edge of veterinary medicine and at the forefront of veterinary standards. As part of that focus, OVRS recently obtained our VECCS Level 1 Accreditation in order to certify our ability to provide emergency and critical care for seriously ill or injured animals. Keep reading to find out what this means to you and your pets.
What is VECCS
VECCS stands for the Veterinary Emergency and Critical Care Society. This organization is dedicated to the betterment of veterinary emergency medicine and has recently started a voluntary certification program for emergency hospitals in the United States.
VECCS certified hospitals meet or exceed the minimum standards of an emergency veterinary hospital as outlined by the organization. This means that VECCS certified hospitals have been determined to be at the forefront of veterinary emergency medicine and critical care.
What VECCS Level 1 Accreditation Means
There are three levels of certification. OVRS is VECCS Level 1 accredited–the highest level of qualification. This means that it is a 24-hour facility that is available at all times for emergency and critical patient care. VECCS Level 1 facilities also have at least one board certified criticalist on staff.
To obtain VECCS Level 1 Accreditation, our facility must also meet the following requirements:
Have at least one veterinarian on duty at all times with a minimum of two years' experience
Have at least two full-time certified veterinary technicians on staff
Provide a comprehensive continuing education program for staff
Have the staff and equipment necessary to evaluate and stabilize any emergent mammal, bird, or reptile patient
Be able to provide ventilation if necessary
Have the ability to monitor intra-arterial blood pressure
Be able to perform endoscopy and bronchoscopy
Demonstrated proficiency in abdominal ultrasound and echocardiography
Have the capability to provide uninterrupted power during an electrical outage
Be able to provide complete intravenous nutrition
Have the resources to perform dialysis
There are other minimum standards and requirements that must be met as well, ensuring us to be a top-notch, ever-improving facility.
What VECCS Accreditation Means to You
Having our VECCS Level 1 Accreditation should mean a lot to you as a pet owner. Accreditation means that we are on the leading edge of veterinary emergency and critical care and are dedicating to evolving and improving. It means that your pet, should he or she ever need us, will be receiving the best care available. Because the process is voluntary as well, you can know that we are truly dedicated to our patients.
VECCS accreditation truly means a high quality, up-to-date veterinary experience for all of our patients. We are so excited to join the ranks of the hospitals that can claim this status. When choosing a hospital for your pets emergency needs, this accreditation should be important to you. We are very proud to boast the title of VECCS Level 1 Accreditation.