Me-ow: The Latest in Cat Tech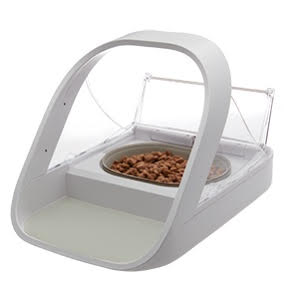 The latest and greatest cat technology makes it easier than ever to own and love one (or many) cats. These gadgets improve every aspect of life with a cat–and, best of all, they're fun to use. Check out some of the newest advancements in cat tech to see which items could enhance your kitty's life with you:
Cat Tech: Cat Water Fountains
Some cats are not interested in still water in a bowl, but it is definitely important for them to stay hydrated. Cat fountains add the extra visual stimulation that can actually excite a picky feline enough for her to take extra sips throughout the day. Found in many different shapes and sizes, cat water fountains can enhance your home decor. They also add a soothing water sound to create a peaceful environment in your space. This piece of cat tech is a great addition for both you and your favorite feline.
Cat Tech: Microchip Feeders
If you live in a multi-pet household and are having trouble keeping the animals out of each other's food bowls, this type of feeder could be your ideal solution. Microchip feeders can connect to your cat's microchip identification number (or to an RFID collar), so they only open to that designated cat. This cat tech makes it easy to serve different prescription foods or prescription food to just one cat. It also ensures that each cat is eating the amount you feed them. No more arguing over food bowls in your house!
Cat Tech: Pet Cameras
WiFi pet cameras let you keep an eye on your kitty even from far away. With HD video, night vision, and a two-way microphone, you can check in on your cat at any time of day or night from anywhere. Many models even come with a built-in laser pointer, so you can play with your cat no matter where you are. Others enable you to give your cat a treat with one simple click. WiFi pet cameras give you peace of mind when you're traveling–or if you just miss your cat during the workday.
Cat Tech: Electronic SmartDoor
If you don't want other animals to be able to get out (or in) through your cat door, this is a great hi-tech solution for you. SmartDoors connect to a specific SmartKey that you put on your cat's collar, and they will not open unless the key is nearby. If you have other neighborhood cats or wild critters trying to follow your kitty inside, SmartDoors give you more control. They also help if you are trying to keep one of multiple cats from going outside.
Cat Tech: Interactive Toys
Cater to your cat's hunting instincts with interactive toys that keep them active and engaged. Toys like the TRIXIE Brain Mover Activity Strategy Game encourage your cats to use their problem solving skills to find treats. There are also interactive toys like a remote controlled mouse toy or an LED ball that give your cat the feeling of hunting in the wild.
Oakland Veterinary Referral Services cares about you and your pets. This is why we offer plenty of pet ownership resources in addition to our specialty veterinary and emergency services. Visit our blog for more tips on caring for your pets or call us at (248) 334-6877 to schedule an appointment.