Best Cone of Shame Alternatives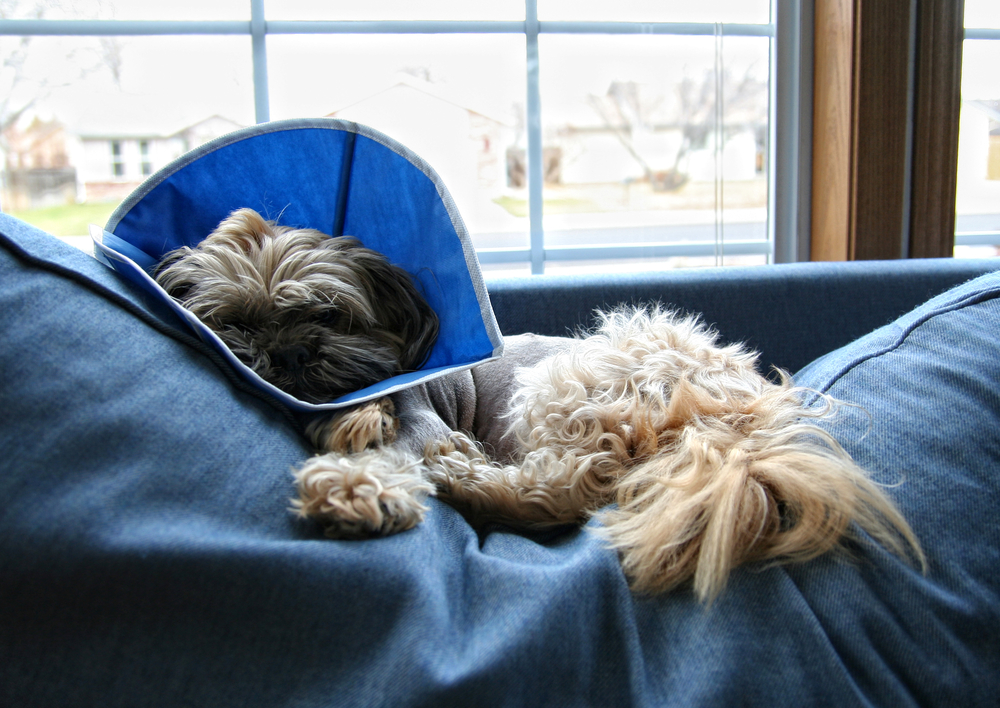 Looking for the best "cone of shame" alternatives? The infamous cone of shame (that resembles an Elizabethan collar) is a necessary but awkward veterinary tool. It can keep pets from licking, biting, or scratching at an injury or a wound that's healing post surgery. But these cones are large and cumbersome, which can make it hard for your pet to eat, sleep, and even walk around the house. The team at Oakland Veterinary Referral Services has compiled this list of best alternatives to the cone of shame so you can help your pet recover without hindering his daily life:
BiteNot Collar
Just as it says in its name, this collar is designed to make it nearly impossible for your dog to bite most of their body. Unlike the cone of shame, though, it does not restrict movement for eating, drinking, sleeping, or even playing. Although it does not offer protection for the eyes or the ears, it does prevent your pet from biting:
Rump
Tail
Chest
Abdomen
Genitals
Lower legs and feet (in smaller breeds)
The collar is available in a wide range of sizes to ensure it works for breeds of all shapes and sizes to help with healing.
The BooBooLoon Inflatable Pet Recovery Collar
This inflatable collar works similarly to the Elizabethan, but provides more comfort than the stiffer variety. Made from PVC, this collar is easy to inflate and completely safe for your pet to wear. Since you can control the amount you inflate the collar, you can customize it to your pet's specific needs. When you deflate it, it is easy to store until you need it again.
Soft E-Collars
Sometimes the best alternative is the one that is the most similar to the popular option. The soft e-collar uses the same concept as the traditional Elizabethan version, but has a soft cone, which makes it easier for your pet to move. The soft e-collars are great options for pets that are licking or biting certain body parts too much or those who are trying to heal from surgery. Ask your veterinarian if a soft e-collar is a good option for your pet.
Alfie Pet Noah Lion Dog & Cat Recovery Collar
Who says a protective collar needs to be boring? This version looks like a lion's mane, which instantly transforms your dog or cat into an adorable impersonator. The material is soft and malleable, so your pet can enjoy regular daily activities. Since the fastener is adjustable, you can use it for a few different neck sizes.
Kong Cloud Collar for Dogs & Cats
This reusable collar does not hinder your pet's peripheral vision, so they can still enjoy their independence. The fabric can be cleaned in the washing machine for easy maintenance. Available in sizes extra small-extra large, this collar can be used for a wide range of pets.
Oakland Veterinary Referral Services wants to help you provide the best lives for your pets. From helpful resources like the best cone of shame alternatives to comprehensive specialty veterinary services, we make it easy to give and get the care you need. To learn more about our services, please call (248) 334-6877.