The Pet Owner's Guide to Triage and the Veterinary Emergency Room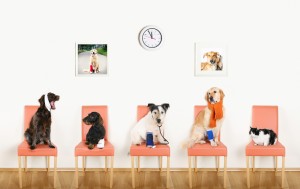 No one plans on their pet having an emergency, but it is bound to happen eventually if you have animals in your home. Visiting the veterinary emergency room can be scary, especially if it is at a facility other than your pet's regular veterinarian.
Learn what you need to know about the veterinary emergency room at Oakland Veterinary Referral Services and how things work so that you know what to expect should you have to visit us unexpectedly. This includes understanding how we prioritize the order in which pets are seen in the ER.
Triage in the Veterinary Emergency Room
In order to understand how the veterinary emergency room works, it is important to understand the concept of triage. Triage is from a French word meaning "to sort". It is the process of prioritizing patients so that everyone can get the care needed in an appropriate manner.
OVRS uses triage in many ways. It often begins on the phone when we assess if a pet needs to be seen, how urgently, and if there is anything the pet owner should be doing in the meantime. Information gathered on the phone helps us to prepare for your pet's arrival and helps you to deliver your pet to us safely.
Once you are at the hospital, a well-trained veterinary technician will be the first person to assess your pet. His or her goal is not to diagnose or treat the patient, but rather to determine which pets in the waiting room need immediate care and to prioritize what needs to be done.
Once we begin to further assess your pet, a more thorough history and examination will be conducted in order to formulate a specific plan to diagnose and treat your pet. Some of this may be done by the veterinarian, but much of it can be performed by our expert support staff.
Patients who are hospitalized are also triaged as patient status and needs change.
How to be a Prepared Pet Owner
Understanding the process of pet triage as an owner can be very helpful should you ever find yourself needing veterinary emergency care. Be sure to:
Call ahead, if possible – If at all possible giving us a call when you are on your way can be extremely helpful. We can use this opportunity to help you get your pet to us safely and to prepare for your pet's arrival by setting up equipment and medications we may need.
Try to collect all relevant information – Being able to tell us your pet's breed, age, vaccination status, and medications can be very important. Please be sure to bring in the packaging of anything ingested. Ideally the person bringing the pet should be able to answer questions about the pet's care and lifestyle.
Be patient with us – Sometimes our emergency room can be quite busy. The process of triage allows us to prioritize a critical patient over one that is stable. Even though you may have to wait a bit for us to look at your pet's eye while we treat one who has been hit by a car, we promise to provide the best care possible, as soon as we are able. Putting more critical pets at the head of the list means that everyone has the best possible outcomes.
Realize that all of our staff works together to care for your pet – All of our staff is experienced and well-trained. Even though you may not be working directly with a veterinarian at all times, everyone is working together to provide excellent care for your pet. Trusting our veterinary technicians and support staff allows us to see everyone efficiently.
The OVRS veterinary emergency room relies on triage principles to try and help all pets who need medical attention. Understanding how the process works can make any visit to the emergency room a little less scary.