Where Can You Take Your Dog? Almost Anywhere!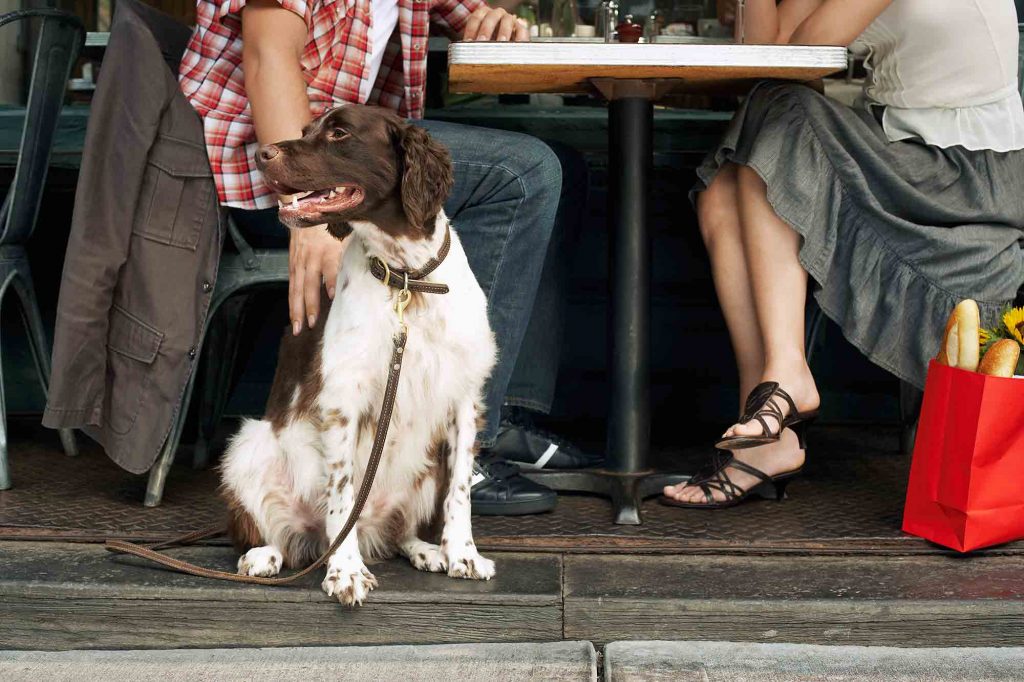 With more than 69 million pet dogs in our country alone, it just makes sense that our canine counterparts would be welcome at a variety of public establishments; some employers are even encouraging their employees to bring their pets to work! With evidence of reduced stress, increased productivity, and higher morale, integrating pets into all areas of life seems natural.
In spite of widespread progress in this department, though, dogs aren't allowed everywhere we want to go (yet!). The great news is that there are some amazing businesses out there that allow you to take your dog, and we've got them listed here!
From "No Pets" to "Yes, Please!"
With increased education, socialization, and training programs, dogs are becoming excellent participants in all manner of outings. It used to be that dogs were only allowed in outdoor areas, but now it's common to take your dog to grocery stores, malls, restaurants, hotels, and more.

Not Just Service Animals
When all but a few dog owners perceive Fido as a bona fide member of the family, it can be inconvenient, insensitive, or heartbreaking to have to leave a pet pooch behind. Public places were once only the territory of people and service animals, but when big-box pet chains began to rule over major shopping areas, the family dog wasn't far behind.
Prepping for the Big Moment
It's important to prepare for a successful public outing in these ways:
Make sure your dog has received vaccinations that protect him or her from highly contagious illnesses, such as canine parvovirus.
To reduce exposure to the illnesses spread by fleas, ticks, and mosquitoes, ensure your dog's parasite prevention is up-to-date.
Socialization and training are essential to your dog's safety and well-being. At the very least, your dog should know basic commands and not become stressed or anxious around other animals, strangers, or children.
Microchips are added security when away from home. Register your dog's chip and remember to update any contact information that has changed.
Your dog's collar, leash, and legible ID tags are also critical to safety.
Be prepared to clean up any messes.
Travel Safely
Where you take your dog largely depends on the individual establishment. A good rule of thumb is to call in advance to ask about their pet policy.
While traveling to your destination, be sure your dog is secure inside the car. This may involve a crate or harness, and if possible, windows up far enough to prevent escape.
Where You Can Take Your Dog
Initial choices are PetSmart or Petco, but they are just the tip of the iceberg for where you can take your dog:
Lowe's
Home Depot
Nordstrom and Nordstrom Rack
Macy's
Gap
Banana Republic
Bloomingdale's
Starbucks
Pottery Barn
Abercrombie & Fitch
Bath and Body Works
Ross
TJ Maxx
Old Navy
Michael's
Tractor Supply Co.
The Apple Store
Bass Pro Shops
LUSH Cosmetics (dog friendly and no animal testing on their products)
Academy Sporting Goods
You'll find that there really are no shortages when it comes to where you can take your dog. However, if stores are attached to or inside malls, you may not be allowed to take your dog through.
Oakland Veterinary Referral Services staff love to go out with our own dogs and hope that your dog has a positive and enriching experience while out and about with you.