Posts from November, 2014
We all look forward to the holiday season as a time of family, friends, food, and fun. Unfortunately, though, Thanksgiving is also a time where we see a dramatic increase in the number of pet emergencies.
Be sure to be aware of potential Thanksgiving food risks and keep your pet safe this holiday season.
Pancreatitis in Pets
Just as for people, overindulgence in rich, fatty foods can upset the digestive system, resulting in vomiting, diarrhea, or both. Sometimes, though, when pets indulge too much the result is something more serious than just a tummy ache. Continue…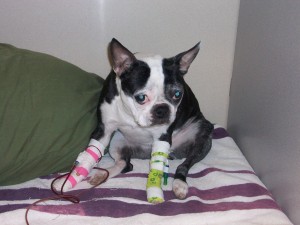 As a pet owner, nothing is as scary as a disease that can take our pets from us without warning, and sometimes even without cause. Immune-mediated hemolytic anemia (IMHA) is a condition that can do just that, though.
Although you've likely never heard of it, it's important to learn what you need to know so that if you ever have a pet who is affected by IMHA you can take prompt and effective action.
What is Immune-Mediated Hemolytic Anemia in Dogs?
The name of the disease says it all. In pets affected by IMHA the immune system begins to destroy (hemolyze) the animal's own red blood cells, resulting in anemia. Continue…