Posts from March, 2014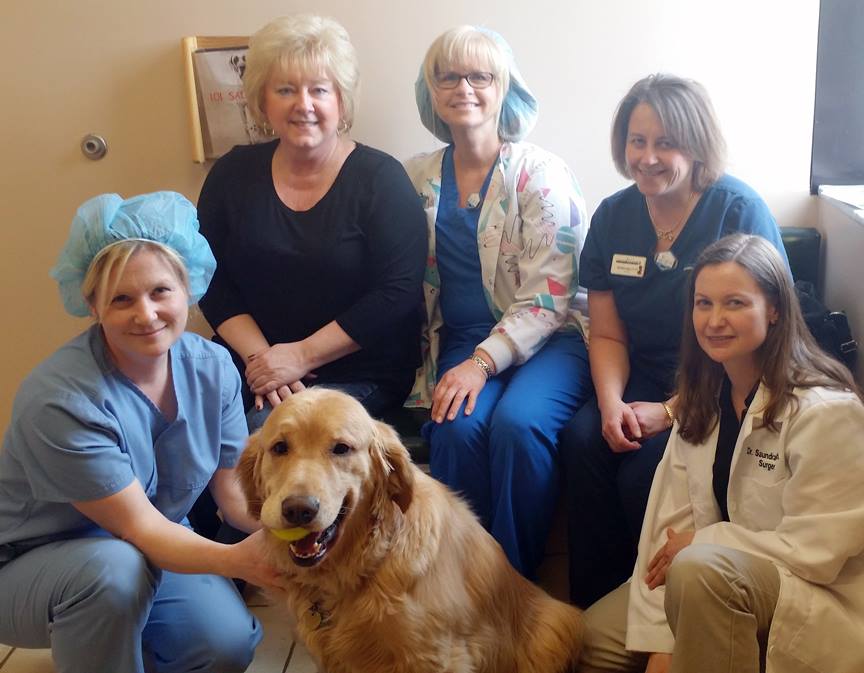 Quinn, a Golden Retriever who is part of St. John Providence health system's pet therapy program at the Oakland Center, didn't know that he was "paying it forward" by helping patients through their illness' and recovery. He was just being a good dog, and doing what he does best: helping those in need. But, as it turns out, that's precisely what happened.
Last month (February 2014), Quinn suffered from a ruptured cruciate ligament in his knee, and was in need of TPLO corrective surgery if he was going to continue with the important work he does at St. John's.
When the staff at OVRS heard about Quinn's condition, we knew we had to help.  As a result, on February 22, OVRS's Dr. Saundra Hewitt performed the surgery on Quinn, free of charge, as a way to say thank-you for all the comfort and good works that Quinn and his fellow therapy animals do for the patients for the St. John Providence health system.
Three weeks later, Quinn is doing great! He's up and moving and enjoying his "time off" while his incision heals and he regains his strength. As soon as the risk of infection (for all involved) has passed, Quinn will be back to making his rounds at St. John Providence's Oakland Center, but now with a special understanding of what it means to be the one in need of care.
St. John Providence's Pet Therapy Program
For those of you who are unaware, the St. John Providence health system offers pet therapy for the patients, visitors, and associates throughout the system. Quinn is one of seven dogs participating in the program, along with Parker, Wilbur, Murphy, Mac, and Lilly.
Together, these incredible animals deliver what is often regarded as "the best medicine of all," a warm heart, a wet nose, and a loving touch. These dogs bring comfort, smiles, and peace to those who spend time at the St. John Providence locations.
As therapy animals, each dog has been specially trained by Paradise Dog Training, and has extensive socialization skills. These amazing volunteers are partnered volunteer dog handlers, and work weekday hours. When not working, Quinn and his associates spend time living with host families as regular dogs.
If you would like to contribute to the pet therapy program at St. John Providence health system, please call Heidi Crisman at (248) 465-4511.
Thank-you Quinn, for all you do. And thank-you Dr. Hewitt, for providing Quinn with the care he needed to continue his work.